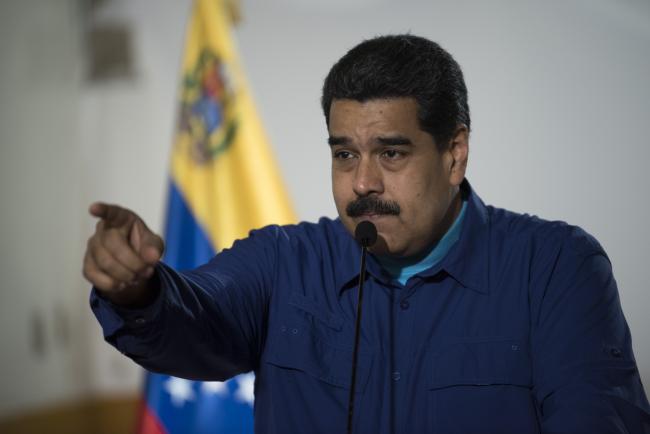 © Bloomberg. Nicolas Maduro, Venezuela's president, gestures during a rally in Caracas, Venezuela, on Wednesday, Feb. 7, 2018. Maduro and his allies have exited the United Socialist Party (PSUV) to create a new movement called 'We Are Venezuela' ahead of the April 22 election.
(Bloomberg) — President Nicolas Maduro is clamping down on dissent in the middle ranks of Venezuela's army, a sign that his alliance with the top brass may not be able to guarantee his grip on power as he prepares to face re-election in May.
Police have detained 19 officers since the start of the month, charging nine of them with treason and instigating rebellion, said Alonso Medina, the lawyer for six of those accused. The government has yet to confirm the arrests. On Tuesday, former intelligence director Miguel Rodriguez Torres was also arrested, accused of plotting to attack the unity of the armed force and having ties to U.S. intelligence services, according to the Information Ministry.
"The truth is that discontent inside the military barracks is just the same as in the street," said Medina. "Officials are disgruntled by hunger, hyperinflation and insecurity."
While Maduro buys off the top brass of the army with economic concessions and top posts in the ministries and state-owned enterprises, relations with the lower ranks are sinking to a new low. Twenty-four officials, nine of them generals, were demoted or dismissed last month, some of them from the middle ranks that Hugo Chavez used to rise to power in the 1990's. Maduro, who took over from Chavez in 2013 following his death, will seek another six-year term on May 20th in elections that are being boycotted by the main opposition parties and which may lead to more U.S. sanctions.
"A wave of reprimands has been set off that has never been seen before," said Rocío San Miguel, director of Control Ciudadano, a consultancy on military affairs. "This is Venezuela's worst military crisis" since Chavez's failed bid to overthrow the government in 1992. He came to power through elections six years later.
Officials at the Information Ministry didn't respond to requests seeking comment on Friday, while phone calls to the Defense Ministry went unanswered.
Imploding Economy
The arrests, along with others who were detained in 2017, have fueled speculation over the scope of discontent within Venezuela's military. Years of mismanagement and declining oil output have plunged the economy into a deep depression that's spawned hyperinflation and shortages of the most basic goods.
Rodriguez, a 54-year-old army officer who joined Chavez's 1992 coup attempt, was responsible for countless arrests of government dissidents and protesters during his 14-year career. Yet in 2014 he confronted the "colectivos," or paramilitary groups supported by the government in Caracas, a stance that saw him ousted from his post.
Subsequently, Rodriguez started building his own political movement and toured Venezuela to whip up opposition to Maduro. In February 2017, he was banned from entering elections for 12 months, derailing his presidential aspirations.
Read more: As Venezuelans Flee, Refugee Camp Springs Up Across Border
Maduro's attempts to buy off military chiefs have reached new heights in the past year. At the end of 2017, Maduro named Major General Manuel Quevedo as the new oil minister and head of state-run oil producer PDVSA.
With Quevedo, there are now at least seven military officials in top posts at PDVSA, strengthening the armed forces' control over the industry that accounts for more than 95 percent of Venezuela's total exports. While the country boasts the world's largest proved oil reserves output has halved in the last 20 years from a peak rate of 3.4 million barrels a day in 1998.
While top officials have an ever bigger stake in Maduro's success, what is going on in the lower ranks is getting harder to decipher.
"Whether or not there was a conspiracy is difficult to say," Medina said. "But unlike government alleged cases of conspiracy of 2016 and 2017, these officers have not been accused of having links with opposition politicians."
https://www.myfxe.com/wp-content/uploads/2018/03/1412/venezuelas-maduro-ramps-up-arrests-to-purge-dissenting-military.jpg
434
650
euitsols
https://www.myfxe.com/wp-content/uploads/2018/04/myfxe-300x140.png
euitsols
2018-03-20 10:56:03
2018-03-20 10:56:03
Venezuela's Maduro Ramps Up Arrests to Purge Dissenting Military