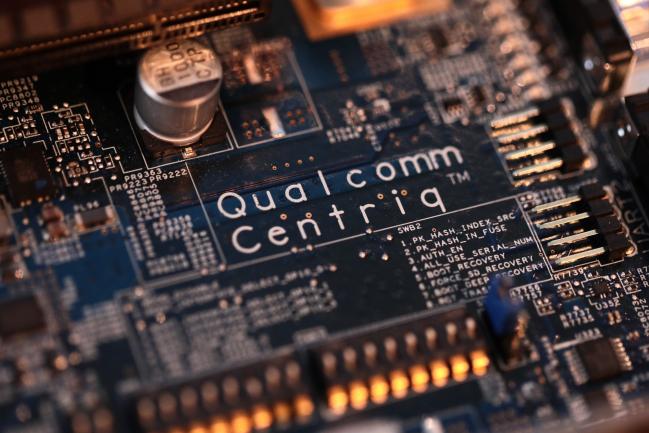 © Bloomberg. Qualcomm Centriq branding sits on a motherboard on display at the Qualcomm Inc. stand during day two of the Mobile World Congress (MWC) in Barcelona, Spain, on Tuesday, Feb. 27, 2018. At the wireless industry's biggest conference, more than 100,000 people are set to see the latest smartphones, artificial intelligence devices and autonomous drones exhibited by roughly 2,300 companies.
(Bloomberg) — The Trump administration is considering a crackdown on Chinese investments in technologies the U.S. considers sensitive by employing a law reserved for national emergencies, among other options, according to people familiar with the matter.
Treasury Department officials are working on plans to identify technology sectors in which Chinese companies would be banned from investing, such as semiconductors and so-called 5G wireless communications, according to four people with knowledge of the proposal, who spoke on the condition of anonymity.
The investment curbs would be the latest step in President Donald Trump's plan to punish China for what the U.S. sees as violations of American intellectual-property rights. The president asked Treasury Secretary Steven Mnuchin to consider investment restrictions on Chinese firms after the administration released the results of its probe into China's IP practices last week.
While investors have so far focused on Trump's plan to impose tariffs on Chinese imports, new restrictions could deepen a slowdown in Chinese investments in the U.S. since Trump took office, hurting the ability of American companies to raise capital and holding down valuations.
'Other Action'
"There will be limitations on foreign investment," Commerce Secretary Wilbur Ross said Tuesday in an interview on Fox Business Network. Pending legislation in the Senate and House to bulk up the Committee on Foreign Investment in the U.S., the panel that currently reviews foreign takeovers, will be part of the response, Ross said, adding that Trump will take "other action."
The president rejected Broadcom (NASDAQ:) Ltd.'s hostile takeover of Qualcomm (NASDAQ:) Inc. earlier this month, sending a message that his administration won't look kindly on any deal that would give China an edge in critical technology. Although Broadcom is based in Singapore, China loomed large in the decision, because Qualcomm is locked in a race with China's Huawei Technologies Co. to dominate the development of next-generation wireless technology.
Last year, Trump blocked the takeover of chipmaker Lattice Semiconductor Corp. by a private-equity firm backed by a Chinese state-owned asset manager.
'Deemed Important'
Trump gave Mnuchin 60 days from March 22 to propose executive actions the president can take to address concerns about Chinese investments in industries or technologies "deemed important" to the U.S.
Treasury officials are looking at ways to impose tougher conditions on Chinese firms using legislation that underlies CFIUS, which currently vets foreign takeovers on a case-by-case basis. But they are also weighing the use of a law that enables the president to regulate commerce in a national emergency, according to two of the people.
The International Emergency Economic Powers Act, enacted in 1977, allows the president to declare a national emergency in response to an "unusual and extraordinary threat." After declaring such an emergency, the president can block transactions and seize assets.
"It's never been used in connection with unfair trade practices, but it's broad enough that you could put restrictions on a wide variety of transactions," said Christian Davis, an international trade lawyer at Akin Gump Strauss Hauer & Feld LLP in Washington.
Strict Reciprocity
The Trump administration is considering enforcing strict reciprocity on Chinese acquisitions, meaning U.S. regulators would only approve deals in sectors in which American companies are allowed to invest, according to two of the people familiar with the matter. China restricts or bans foreign investment in a range of industries, from car manufacturing to telecoms providers and rare-earth exploration.
The Trump administration hasn't finalized its plans, and the options under consideration could still change, the people familiar with the matter cautioned.
Enforcing sweeping bans on Chinese investment would mark a major departure from the existing CFIUS process, which reviews individual transactions to determine if it threatens U.S. national security. The administration could use CFIUS legislation to declare a policy that Chinese investment won't be allowed in entire industries deemed sensitive, such as microchips and telecommunications, said Davis, the Akin Gump lawyer.
"The question is how different is that from what CFIUS is doing already with respect to Chinese investments in sensitive sectors. Depending on how these restrictions are implemented, the answer may be not much," he said.
Republican Senator John Cornyn and Republican House member Robert Pittenger have introduced legislation that would expand the power of CFIUS to review foreign investments. Mnuchin has been supportive of the bill, which would broaden the scope of reviewable technologies to include investments in "critical" technologies.
Acquisitions by Chinese firms in the U.S. fell to $31.8 billion last year from $53 billion the year before, according to Bloomberg data.
https://www.myfxe.com/wp-content/uploads/2018/03/3499/u-s-said-to-weigh-use-of-emergency-law-to-curb-china-takeovers.jpg
433
649
euitsols
https://www.myfxe.com/wp-content/uploads/2018/04/myfxe-300x140.png
euitsols
2018-03-28 05:04:27
2018-03-28 05:04:27
U.S. Said to Weigh Use of Emergency Law to Curb China Takeovers