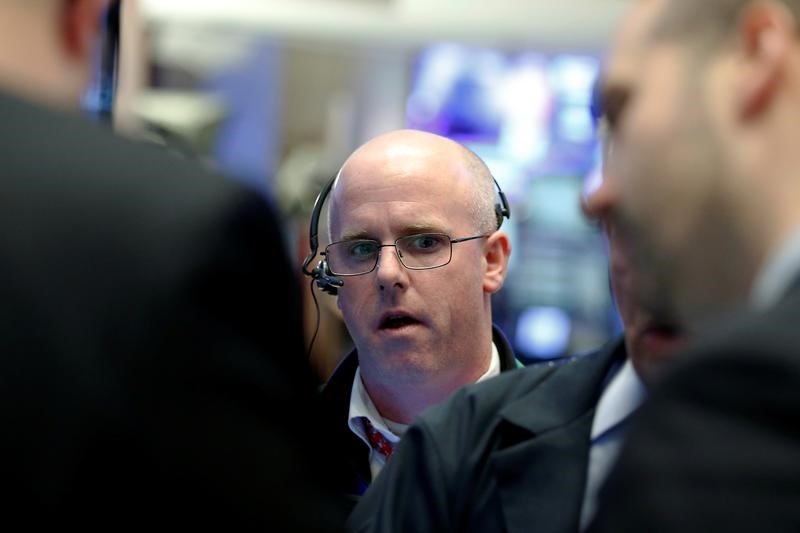 © Reuters. Trump's Farm Belt Supporters Would Be Hit Hard in Trade Conflict
(Bloomberg) — Farm groups pleaded with the Trump administration to back away from a trade conflict with China that will hit hard in states that are key components of the president's political base and where there are pivotal elections in November.
China countered President Donald Trump's plan to slap tariffs on 1,333 of the country's products — from semiconductors to lithium batteries — by announcing duties on on a variety of agriculture products including soybeans, the second-most-valuable U.S. crop. Wheat, corn, cotton, sorghum and beef also would be affected.
"We have been warning the administration and members of Congress that this would happen since the prospect for tariffs was raised," said John Heisdorffer, president of the American Soybean Association. "A 25 percent tariff on U.S. soybeans into China will have a devastating effect on every soybean farmer in America."
Trump won eight of the 10 states that are the biggest producers of soy beans and three of them — Missouri, Indiana and North Dakota — are home to three Senate Democrats targeted by Republicans trying to hold or expand their Senate majority. Four other of the states have close races for governor. The economic ripples may extend out to U.S. House races at the same time Democrats are threatening Republican control of the chamber.
"The farm community is a pretty powerful voting bloc," says Jennifer Duffy, who follows Senate and governors races for the nonpartisan Cook Political Report. "If they are unhappy, they turn out in big numbers and can really change things in a hurry."
The farm economy, which powered the rural Midwest during the financial crisis, has faltered. Farmer profits this year may be the lowest since 2006, with net income at less than half the record set in 2013. Farmland values are stagnant, and agricultural groups have placed their hopes on expanded trade to shake the doldrums.
Trump's previous actions on trade, his tightening of immigration policy that's hit farm labor and his unfulfilled promises on rural infrastructure already have bred disenchantment, said Johnathan Hladik, policy director for the non-partisan Center for Rural Affairs in Lyons, Nebraska, which advocates for small farms and aid to rural communities.
A trade war with China may be the turning point that turns some rural voters against him.
"You've seen bits and pieces, but the full picture has never been put together that would make farmers pin a bad farm economy on Trump," he said. "This may be what puts the picture together."
'Can't Lose'
Trump said Wednesday that a trade conflict with China has little downside for the U.S. given the current trade imbalance between the two countries. "When you're already $500 Billion DOWN, you can't lose!" he tweeted.
Both sides still have time to retreat. Trump's tariffs must pass a 60-day public comment, and China said its duties will take effect at the same time.
But agriculture is a rare U.S. sector with a China-trade surplus, and Agriculture Secretary Sonny Perdue told reporters in Ohio that farmers have "legitimate anxiety" about a potential trade war with China. "I talked to the President as recently as last night. And he said, 'Sonny, you can assure your farmers out there that we're not going to allow them to be the casualties if this trade dispute escalates,'" Perdue said, according to remarks distributed by the department.
Some Republicans in Congress, particularly those from farm states, had been sounding alarms on Trump's trade policies even before the latest action.
Earlier Warnings
After Trump's announcement of tariffs on imported steel and aluminum prompted threats of retaliation from U.S. allies and other nations, Senator Pat Roberts of Kansas, chairman of the Senate Agriculture Committee, has accused the administration of favoring "Rust Belt" over "Farm Belt" rural voters. Iowa Republican Senator Chuck Grassley warned that Trump risked triggering a rural depression if he followed through on a threat to scuttle the North American Free Trade Agreement.
In a statement Wednesday, Grassley said he warned Trump in February that tariffs on Chinese goods would cause China to retaliate against U.S. agriculture and "that's exactly what happened."
The president's popularity on other issues such as deregulation and tax cuts has maintained support among his agricultural base. Trump received a hero's welcome speaking at the convention of the American Farm Bureau Federation, the biggest U.S. farmer group, in January, even as the White House considered cuts to crop insurance, the biggest farm subsidy program.
The latest China tangle, however, seems so ill-conceived that it may turn off even some of his most devoted farmer supporters, said Roger Johnson, president of the National Farmers Union, the second-biggest U.S. general farm group.
Farmers Union, which historically has aligned more with Democrats, has long supported a get-tough-on-China approach to trade.
"This is going to have a negative impact on farm income and crop prices, and the administration seems to have no plan on how to deal with it," he said. "We just end up being damaged, and without any plan for what to do about it, you risk undercutting support you will need later for what could become a long-term process to bring discipline to China's trade practices."
Trade disruptions will create opportunities for Democrats running for Congress this year or for president in 2020, Hladik said. Republican incumbents will be forced to distance themselves from Trump on trade, giving opponents a chance to capitalize on the division while offering themselves as stronger advocates for rural economic interests.
"Farmers pay a lot of attention to trade and international relationships because trade has dominated the ebb and flow of markets for decades," he said. "The fortunes of the farm have not been pinned on Trump, but we can look at that to change."
https://www.myfxe.com/wp-content/uploads/2018/04/5058/trumps-farm-belt-supporters-would-be-hit-hard-in-trade-conflict.jpg
533
800
euitsols
https://www.myfxe.com/wp-content/uploads/2018/04/myfxe-300x140.png
euitsols
2018-04-05 04:05:32
2018-04-05 04:05:32
Trump's Farm Belt Supporters Would Be Hit Hard in Trade Conflict