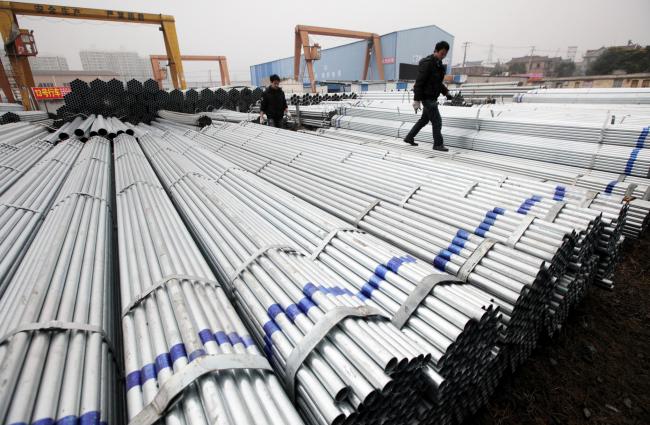 © Bloomberg. A worker walks on stacks of steel pipes at a storage yard in Shanghai, China.
(Bloomberg) — The Trump administration is under growing pressure to explain the details of its trade policies after fears of a tit-for-tat economic conflict between the U.S. and China sent stocks tumbling last week.
Businesses and investors are awaiting details in the coming days of the proposed product list for the tariffs on roughly $50 billion in Chinese imports President Donald Trump announced last week. While U.S. stocks fell sharply after Trump unveiled the plan, equity futures rallied today as investors' immediate fears appeared to ease.
China unveiled tariffs on $3 billion of U.S. imports in response to separate U.S. steel and aluminum tariffs, and its ambassador to the U.S. said all options are on the table, though the Asian nation doesn't want a trade war.
"There remains a huge amount of uncertainty over what happens next," Capital Economics analysts said in a research note on Friday. "But with the protectionists seemingly in the ascendancy in the White House, the possibility of further escalation is high."
Trump has also tasked Treasury Secretary Steven Mnuchin with imposing new curbs on Chinese investment in the U.S. The president laid out the plan after the U.S. Trade Representative's office concluded Beijing violates U.S. intellectual property in myriad ways, such as by forcing American companies to cough up technology to do business in China.
Meanwhile, the U.S. is still negotiating with the European Union, Argentina, Australia, Brazil, Canada, Mexico and South Korea on whether those countries will be subject to steel tariffs. The White House announced last week the nations would be excluded until May 1.
Read a Bloomberg QuickTake on the Trade Policy Upheaval
The U.S. is scheduled to resume talks with Canada and Mexico early next month on an overhaul to the North American Free Trade Agreement, adding another potential flash point.
Amid the tumult, the administration is sending mixed signals about how far it is willing to go. Just before the China tariffs were announced, White House trade adviser Peter Navarro signaled a break from the diplomatic approach toward China that has defined U.S. economic policy since Richard Nixon visited the Communist nation in 1972.
For more on U.S.-China trade dispute
Read about China and I.P. theft allegations
See what economists say about trade-war impact
Watch Bloomberg's Enda Curran explain consequences
Click here for a breakdown of retaliation targets
But on Sunday, Mnuchin said he's optimistic the U.S. can reach an agreement with China that will forestall the need to impose the tariffs that Trump has ordered.
"We're having very productive conversations with them," Mnuchin told "Fox News Sunday." "I'm cautiously hopeful we reach an agreement."
Markets responded to that hope, with the MSCI Asia Pacific Index of stocks reversing a drop on Monday and the Index also advancing. Futures for the jumped more than 1 percent, the most in more than two weeks, while contracts for the Nasdaq were set for the first gain in four days.
It's not clear when the China tariffs will take effect. U.S. Trade Representative Robert Lighthizer has 15 days from March 22 to release a proposed product list, though a USTR fact sheet says he plans to release it as early as this week. After the list is released, there will be a 30-day comment period.
Bloomberg Economics estimates that a global trade war would cost the world economy about $470 billion by 2020, or 0.5 percent of output.
Mnuchin also said the U.S. has reached agreement with South Korea on both the steel tariffs and revisions to the free-trade deal between the two countries. U.S. and South Korean officials have been discussing changes since Trump sought a revamp last year.
(Adds size of move in markets paragraph.)
https://www.myfxe.com/wp-content/uploads/2018/03/3254/trump-veers-into-uncharted-trade-territory-as-china-waits.jpg
425
650
euitsols
https://www.myfxe.com/wp-content/uploads/2018/04/myfxe-300x140.png
euitsols
2018-03-27 05:04:51
2018-03-27 05:04:51
Trump Veers Into Uncharted Trade Territory as China Waits