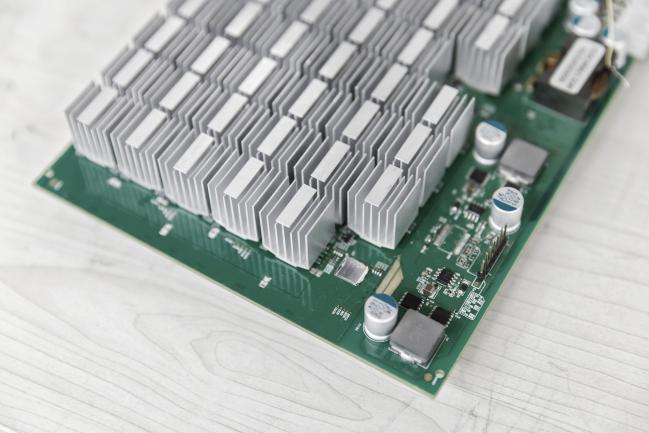 © Bloomberg. A mining machine component sits in the research and development department at Bitmain Technologies Ltd.'s headquarters in Beijing, China, on Thursday, Aug. 10, 2017. Bitmain is one of the leading producers of bitcoin-mining equipment and also runs Antpool, a processing pool that combines individual miners from China and other countries, in addition to operating one of the largest digital currency mines in the world.
(Bloomberg) — The U.S. is taking aim at President Xi Jinping's strategy to make China a global leader in the high-tech industries of the future.
After slapping tariffs on 20th century industries like steel, President Donald Trump is now mulling curbs on 10 strategic industries that Beijing aims to dominate this century. The measures may be announced as early as this week on industries that form the thrust of the "Made in China 2025" plan to boost high-end machinery, aerospace, new-energy vehicles and biotechnology.
"These are things that if China dominates the world, it's bad for America," U.S. Trade Representative Robert Lighthizer told a Senate committee this month.
The U.S. now sees China as a strategic rival and imposing such curbs would mark a concrete shift in its strategy toward containing China's ascent in advanced industries.
"Targeting 'Made in China 2025' is a much bigger deal for China than tariffs on steel or washing machines," said Louis Kuijs, chief Asia economist at Oxford Economics in Hong Kong, who previously worked for the World Bank in China. "This is about the future and impacts one of the key ambitions China has set for itself. It would increase the probability of serious friction."
Key Industries
Measures targeting key industries of the future would more directly address complaints by American companies doing business in China. They have long argued that China uses a range of tactics to force them to transfer intellectual property, and that Chinese entities engage in widespread theft of U.S. trade secrets.
Following an investigation into China's intellectual property practices, the USTR says that the U.S. will "confront China over its state-led, market-distorting" practices in these areas.
The Trump administration is threatening targeted tariffs of 25 percent on $50 billion of Chinese imports to compensate for the harm caused to the U.S. economy by China's policies, the USTR says. Details may come as soon as this week.
Read More on Trump's China Trade Assault:
On how emergency law could be used for an investment crackdown
Read about the focus on cars and finance in ongoing tariff talks
Here's a QuickTake on what a trade war would actually look like
Gadfly on how Trump's tech ban meets China's home grown push
It's easy to see why the U.S. is anxious about China's emerging competitive threat in industries where it still has an advantage.
"Made in China 2025" was announced in 2015, and highlighted 10 sectors for support on the way to China becoming an advanced manufacturing power: Information technology, high-end machinery and robotics, aerospace, marine equipment and ships, advanced rail transport, new-energy vehicles, electric power, agricultural machinery, new materials, and bio-medical. In addition, China has a separate development strategy for Artificial Intelligence, published in 2017.
China already ended Japan's dominance of Asia's high-technology exports in 2014, according to the Asian Development Bank, accounting for 44 percent of exports of high-tech goods such as medical instruments, aircraft and telecommunications equipment that year — up from 9.4 percent in 2000.
China's strategy envisions warp-speed expansion and domination in the "fourth industrial revolution." Its AI industry will be "in line" with those of the most advanced countries by 2020, and will be the world's primary AI innovation center by 2030, a State Council statement said in July.
AI Catchup
Although in most sectors China's AI technologies are still catching up, Chinese researchers have become a global force in AI that cannot be ignored, according to a report last year by LinkedIn (NYSE:) Co. Foreign companies fear they can't compete against Chinese companies in AI and advanced manufacturing that are backed by massive state investment and subsidies.
China had 592 AI companies as of July last year and industry investment of 63.5 billion yuan ($10.2 billion), ranking second to the U.S. on both measures, the official People's Daily newspaper's overseas edition said in February, citing unnamed statistics. Industry output is targeted to surge to 150 billion yuan by 2020 and to 1 trillion yuan by 2030, said the State Council statement. Beijing-based CCID Consulting estimates the industry's output was 70 billion yuan last year.
Leapfrog Effort
"Rising trade tensions reflect that as China moves up the value-added chain its economy is becoming less complementary to the U.S. and more directly competitive," said David Loevinger, a former China specialist at the U.S. Treasury and now an analyst at fund manager TCW Group Inc. in Los Angeles. "And 'Made in China 2025' is part an effort to leapfrog the U.S. in some industries."
Naturally, U.S. efforts that thwart those ambitions are likely to draw a response from Beijing.
"We have good reasons to question the legality and legitimacy of many actions taken by the U.S. on the grounds of national security, like its plan to impose high tariffs on many industries of Made in China 2025," Chinese Ministry of Foreign Affairs spokeswoman Hua Chunying said Tuesday at a briefing in Beijing. "Clearly they are targeting something else."
https://www.myfxe.com/wp-content/uploads/2018/03/3744/trump-is-targeting-chinas-push-to-make-its-economy-high-tech.jpg
433
649
euitsols
https://www.myfxe.com/wp-content/uploads/2018/04/myfxe-300x140.png
euitsols
2018-03-29 04:58:53
2018-03-29 04:58:53
Trump Is Targeting China's Push to Make Its Economy High-Tech