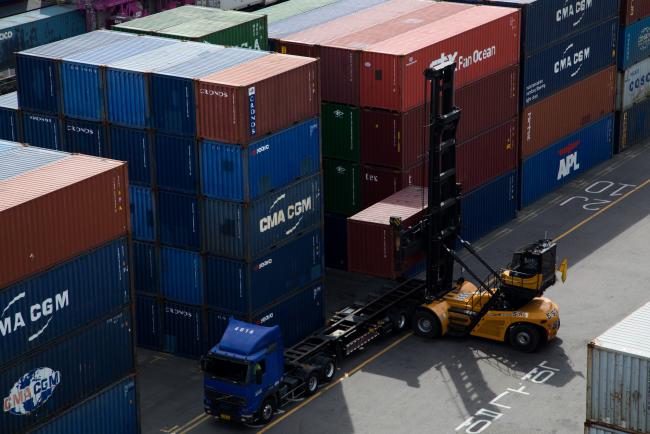 © Bloomberg. A reach stacker transports a container at the Sun Kwang Newport Container Terminal (SNCT) in Incheon New Port in Incheon, South Korea, on Monday, Sept. 4, 2017. President Donald Trump said he would discuss the future of the U.S.-South Korea free-trade agreement with his advisers following a newspaper report that he's considering terminating the pact.
(Bloomberg) — President Donald Trump is hailing the revised U.S. free trade agreement with South Korea as a "great deal" and a critical first step toward more favorable treatment of American products around the world.
Yet the revamped U.S.-South Korea accord unveiled earlier this week isn't much different from the existing pact that Trump often condemned as "disastrous." Most changes made to tariffs, automotive quotas and agricultural preferences were narrow in scope or incremental, according to trade experts.
Trump has regularly threatened to cancel several trade deals — including the one with South Korea — if he didn't secure major changes. Yet his willingness to accept modest revisions after demanding a wholesale overhaul indicates that other trading partners, including Mexico and Canada, may be able to satisfy his demands with smaller concessions.
"He just comes out shooting from the hip and demanding the moon, and what you're really after is just a small nudge in the right direction," said Rob Carnell, chief Asia Pacific economist and head of research for ING Bank in Singapore. "So maybe we shouldn't be too worried. Maybe."
Trump applauded the revised deal as "a great deal for American and Korean workers" in a Twitter posting on Wednesday.
The new agreement was reached as Trump has been planning to meet with Kim Jong Un, the North Korean leader, later this spring. The president will need the support of the Seoul government in negotiations to get Kim to abandon his nuclear ambitions.
'Minimal Impact'
The White House highlighted South Korea's agreement to double, to 50,000, the number of cars each U.S. automaker can sell in the Asian nation without meeting local safety standards. But in a briefing in South Korea, the country's trade minister, Kim Hyun-chong, downplayed the significance of the concession, noting that no American company sells much more than 10,000 cars a year there and suggesting the current 25,000 ceiling isn't an obstacle.
"Lifting a cap that we weren't hitting anyway I think will have minimal impact," agreed Bernard Swiecki, a senior automotive analyst at the Center for Automotive Research, in a phone interview. "This is not just an American problem. Having been to Korea many times, overwhelmingly every car that you look at is Korean. It's very much a homogeneous market."
While the deal will put a quota on South Korean steel sales to the U.S. to about 2.7 million tons annually, it's unlikely to have a significant effect on the country's exports, South Korea's trade ministry said. Exports of steel to the U.S. account for 11 percent of total overseas shipments of the metal by the country.
Two Trump administration officials said this week that the revised deal with South Korea provided a model for trade negotiations with other countries. If that's the case, other countries may conclude that Trump is eager to make a deal rather than push for steep concessions, said Wendy Cutler, a former acting deputy U.S. trade representative who negotiated the original accord with South Korea.
Cutler said the handful of improvements in the revised agreement were modest in comparison to the expectations set up by Trump.
"That really shows that the administration is maybe not as tough as we think they are," she said. "There are signs to suggest that Trump and his team are ready to deal."
The Trump administration is trying to renegotiate with Mexico and Canada new terms for the North American Free Trade Agreement — another longstanding trade that deal Trump has threatened to cancel.
More Renegotiations
And the U.S. has set a May 1 deadline for several other trading partners — including Argentina, Australia, Brazil and the European Union — to reach similar agreements or face tariffs of 25 percent on steel and 10 percent on aluminum. The administration also is threatening tariffs and other penalties on China over the next two months unless the largest U.S. trading partner makes concessions to address trade imbalances.
Japan, the U.S.'s top ally in Asia, was denied an exemption from the metals tariffs and may have to accept bilateral trade talks in exchange for having them lifted. Japan, the world's third-largest economy, managed to keep substantial protection for its sensitive agriculture sector in the regional Trans-Pacific Partnership that Trump pulled out of last year, and would prefer to see the U.S. rejoin the deal.
South Korea didn't agree to any additional opening its agriculture market, reflecting a decision by both countries to narrow the number of issues on the table in order to make progress. The two sides also agreed to negotiate a side deal on currency issues, but that agreement has not yet been reached and South Korean officials didn't mention it while briefing reporters on Monday.
South Korea also agreed to eliminate non-tariff barriers such as certain environmental testing requirements and recognize U.S. standards on auto parts, according to the Office of the U.S. Trade Representative.
$18 Billion Deficit
Briefing reporters Tuesday on condition of anonymity, a senior administration official acknowledged that some of the regulatory changes were minor, but said they amounted to a significant shift when viewed in total.
The official didn't provide estimates on how much the new agreement would effect the American trade deficit with South Korea, which was $18 billion last year.
Cars accounted for more than 70 percent of the value of the trade shortfall, U.S. White House trade adviser Peter Navarro said Wednesday on Bloomberg Television
Some analysts expect minimal, if any, impact on the trade gap from the revisions to the trade deal, also known as Korus.
"The U.S. would've known that no matter what changes they make to Korus, it would do little to reduce its trade deficit against Korea," said Je Hyun-jung, deputy general manager at Korea International Trade Association's Center for Trade Studies in Seoul.
Automotive Parts Market
White House spokeswoman Sarah Huckabee Sanders pushed back against the criticism, saying the sale of automotive parts would grow in addition to car exports.
"This is certainly the step in the right direction to help remove the trade deficit we have," she told reporters on Wednesday.
U.S. Trade Representative Robert Lighthizer said the American automakers probably would not reach the new caps right away.
"It's not going to go to 50,000 per manufacturer immediately, but I think it'll get way above 25,000, and I think we're talking in the not-too-distant future about billions of dollars of additional sales," he said in an interview Wednesday on CNBC.
Lighthizer said the U.S. is now looking to quickly move to secure a deal on Nafta.
Politicians from the U.S., Canada and Mexico are expressing increasing optimism they can reach a deal as negotiators prepare for what would be the eighth round of talks, expected to get underway next month in Washington.
"If there's a real effort made to try to close out and to compromise and do some of the things we all know we should do, I'm optimistic we can get something done in principle in the next little bit," Lighthizer said.
https://www.myfxe.com/wp-content/uploads/2018/03/3760/trump-hails-revised-south-korean-trade-pact-but-changes-are-few.jpg
434
650
euitsols
https://www.myfxe.com/wp-content/uploads/2018/04/myfxe-300x140.png
euitsols
2018-03-29 04:58:58
2018-03-29 04:58:58
Trump Hails Revised South Korean Trade Pact, But Changes Are Few