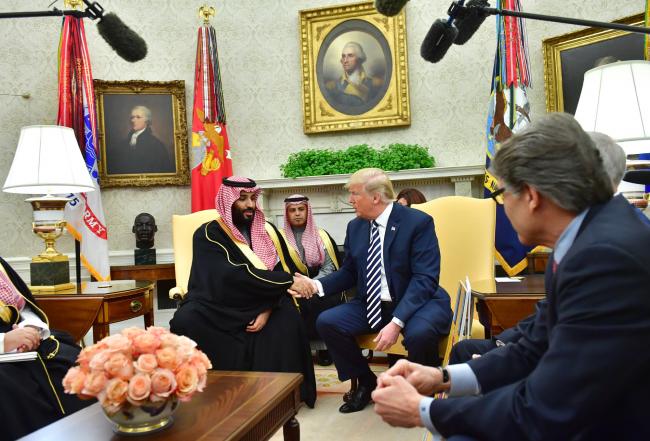 © Bloomberg. Trump and Mohammed bin Salman on March 20.
(Bloomberg) — President Donald Trump demonstrated his administration's embrace of Saudi Arabia on Tuesday, welcoming Crown Prince Mohammed Bin Salman to the Oval Office for a meeting high on mutual praise but short of big announcements.
As the visit began, Trump hinted at a withdrawal from the international agreement curbing Iran's nuclear program — a decision that would likely be welcome in Saudi Arabia, which regards the deal as a boon for its regional foe. But the two leaders announced no progress resolving other Mideast disputes — the war in Yemen, which is taking a catastrophic toll on civilians; the Saudi Arabia-led isolation of Qatar; or an Israeli-Palestinian peace plan under development by Trump's son-in-law Jared Kushner.
Prince Mohammed met with congressional leaders later in the day, and Kushner and Trump's Mideast envoy, Jason Greenblatt, were to dine with the crown prince Tuesday evening. The Saudi embassy has not yet detailed Prince Mohammed's schedule for Wednesday.
Trump's overtures to the kingdom mark a dramatic turn from the Obama administration, which was cool to Saudi Arabia's autocratic rulers over its human rights record, often criticized by advocacy groups such as Amnesty International. But Trump has signaled he won't seek to impose U.S. values on countries that support American foreign policy and economic objectives — and Prince Mohammed arrived in the U.S. ready to cut deals.
"I would really have to say the relationship was, to put it mildly, very, very strained during the Obama administration. And the relationship now is probably as good as it's really ever been and I think will probably only get better," Trump said as his meeting with the crown prince began. "Tremendous investments made in our country and that means jobs for our workers, jobs for our people."
As the prince visited Washington, the Senate scuttled a resolution calling on the U.S. military to step aiding Saudi-led bombing in Yemen, voting 55-44 Tuesday to shelve the measure indefinitely. Thousands of Yemeni civilians have died in air strikes and from a naval blockade that impeded humanitarian aid. The Trump administration opposed the legislation, arguing it could damage U.S.-Saudi relations.
The kingdom's sovereign wealth fund announced on Monday that it would take a $400 million stake in Endeavor, one of Hollywood's biggest talent and event managers. More deals are likely as the 32-year-old crown prince, the kingdom's de facto ruler, plans meetings with business leaders at a half-dozen stops across the U.S. through April 7.
Prince Mohammed said his country was eyeing $400 billion in U.S. business opportunities over the next four years. "A lot of things could be tackled in the close future and more opportunities and that's why we're here today," he said in English.
"Also get rid of all the threats" to both countries and the world, he added.
Countering Iran
One focus of Prince Mohammed's meeting with Trump was expanding cooperation to counter Iran's influence in the Middle East, including the Islamic Republic's alliance with Russia, according to White House officials who briefed reporters before the crown prince's arrival.
In the region, "our interests are completely aligned and our vision for what we think needs to happen is virtually identical," Saudi Foreign Minister Adel al-Jubeir told reporters in Washington on Monday.
Trump on Monday criticized Iran's government and military leaders in an annual presidential statement marking the Persian holiday of Nowruz.
"The history of Nowruz is rooted in Iran, where for millennia a proud nation has overcome great challenges by the strength of its culture and the resilience of its people," Trump said. "Today, the Iranian people face another challenge: rulers who serve themselves instead of serving the people."
Iran's Foreign Minister Mohammad Javad Zarif responded with a tweet that appeared to attack Trump and Prince Mohammed.
"With millennia of civilization, Iranians have the historical depth to ignore the absurd insults of an arriviste leader one whose entire command of history, politics and diplomacy can be condensed into 280 characters," Zarif said Tuesday on Twitter. "But even so, still superior to his juvenile royal stooge."
Peace Agenda
The White House's effort to develop a Middle East peace plan appeared sidelined after Trump late last year declared Jerusalem to be the capital of Israel and said he'd move the U.S. embassy there from Tel Aviv. Few details have emerged since about the plan, but Saudi political support and financing are seen as critical elements.
Palestinian Authority President Mahmoud Abbas, who is furious about the embassy announcement, pre-emptively rejected the Kushner plan in a speech on Monday in which he called the American ambassador to Israel, David Friedman, a "son of a dog."
Like Saudi Arabia, Israel is the rare American ally to see improved relations under Trump. Also like Saudi Arabia, Israel shares a common foe with the U.S. in Iran.
Trump wants an end to a simmering dispute between a Saudi-led bloc and Qatar, a key U.S. ally the Saudis accuse of helping to finance terrorism. Outgoing Secretary of State Rex Tillerson repeatedly failed to reach an accord between the two sides. Trump was to emphasize the importance of a strong and unified Gulf Cooperation Council, whose members include both Qatar and Saudi Arabia, in his meeting with the crown prince, U.S. officials said.
Any agreement among the Gulf nations could be formalized at a Trump-hosted gathering at the presidential retreat at Camp David, Maryland, where the Egyptian-Israeli peace accord was first struck in the Carter administration, the administration officials said.
The Saudi leader will also meet Defense Secretary Jim Mattis, Treasury Secretary Steve Mnuchin, Commerce Secretary Wilbur Ross, and Central Intelligence Agency Director Mike Pompeo, Trump's pick to replace Tillerson.
The high-profile tour and meetings with top officials across government signals a relationship between two nations that's almost unrivaled since Trump took office in January 2017.
Traditional allies in London, Berlin and Ottawa have seen ties strained as the Republican president upends, or threatens to upend, historic trade and security agreements. Even South Korea, which has been at the center of Trump's biggest foreign policy crisis — North Korea's nuclear missile development — hasn't been spared from criticism of its trade deal with the U.S.
But beyond some mild criticism of its role in the Qatar dispute and the Yemen war, relations with Saudi Arabia have only strengthened. Breaking with tradition, Trump even made his first foreign trip as president to Saudi Arabia last May.
https://www.myfxe.com/wp-content/uploads/2018/03/1626/trump-and-saudi-crown-prince-trade-lavish-praise-in-u-s-visit.jpg
441
650
euitsols
https://www.myfxe.com/wp-content/uploads/2018/04/myfxe-300x140.png
euitsols
2018-03-21 09:58:36
2018-03-21 09:58:36
Trump and Saudi Crown Prince Trade Lavish Praise in U.S. Visit