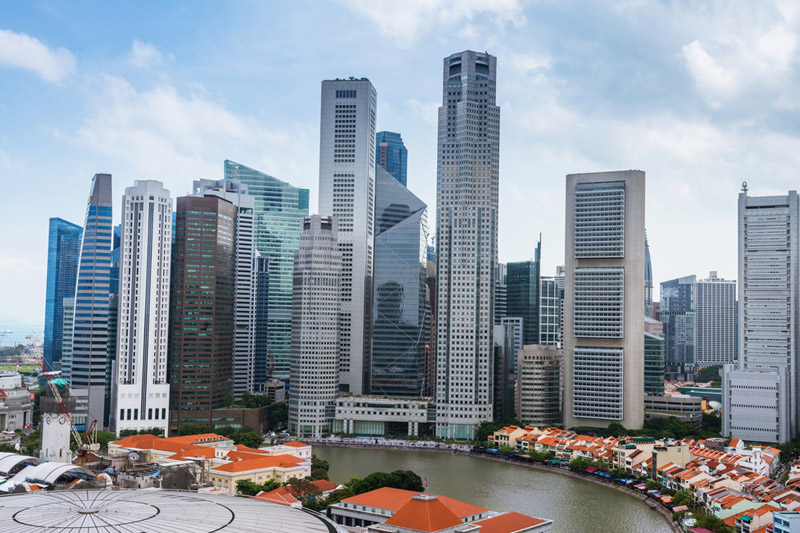 Singapore Says U.S., China Both Risking Status Quo With Actions
(Bloomberg) — Singapore Defence Minister Ng Eng Hen criticized both the U.S. and China for taking "unilateral actions," lumping the two rivals together as nations challenging the current global order.
In a speech to the annual IISS Shangri-La Dialogue security forum in Singapore, Ng said the world's two-biggest economies were similarly using security considerations to justify their behavior — the U.S. on trade and China for its military buildup in the disputed South China Sea.
"Whatever the merit of these arguments, these deviations from global norms challenge the status quo and accepted rules which have hitherto benefited Asia and the regions beyond," Ng said. "It is plainly obvious that local politics and the shift in relative strengths of global or regional powers are in fact changing the rules of the international order previously entrenched."
Ng's comments — he accused the U.S. of "revisiting the status quo" — represent some of the strongest criticism yet from Southeast Asia over President Donald Trump's stance on trade. Trump's recent tariffs on steel and aluminum imports have targeted allies in Europe, plus Japan, Canada and Mexico, while the U.S. is engaged in an escalating war of words with China, risking a full-blown trade war.
Read more: Trump's Art of Unpredictability Starts to Backfire Overseas
The remarks reflect concern that smaller states, including open economies like Singapore, risk being caught in the wash of the U.S. trade actions. Singapore has warned previously that countries should not be squeezed by competition between the U.S. and a rising China, or forced to take sides.
It comes as Group of Seven finance chiefs issued a rare rebuke of a member nation, claiming U.S. trade actions could undermine global economic confidence and threaten the effectiveness of the Western alliance.
Ng cited a "reversal of roles with the United States," adding it was now Chinese President Xi Jinping "who champions globalization." Xi lay out a defense for globalization in a speech at Davos in January 2017, and has strongly advocated for the current system in subsequent speeches, though countries in Europe and elsewhere say China has failed to follow its words with actions to open up its open economy.
At the same time, Ng called out China for intensifying its military buildup on reclaimed reefs in the South China Sea. Beijing has recently installed missiles on some outposts and regularly warns ships and planes from other countries away from territory it claims. While Singapore is not a claimant in the South China Sea, its neighbors such as the Philippines and Malaysia are.
"Both China and the United States are attempting to address perceived inequalities and accepted principles or practices which disadvantage them," Ng said.
Read more: Mattis Warns China Faces Consequences Over South China Sea Moves
Ng called on the U.S. and China to improve their relationship in the interests of others. That's even as the Pentagon in a report earlier this year warned of a new era of great power rivalry with China and Russia.
"It would be a lose-lose scenario for the world if the U.S. and China are unwilling to work together for an inclusive system that both large and small states can benefit from, and where rules apply to all," Ng said.
Long-running disputes between the world's two largest economic powers have flared amid the Trump administration's efforts to counter Chinese influence. Secretary of Defense James Mattis told the forum on Saturday that China's actions in the South China Sea amounted to attempted coercion of other states.
He also attacked what he said were excessive loans made under China's Belt and Road Initiative on infrastructure projects that were binding smaller nations in debt.
"Eventually these things do not pay off, even if on the financial ledger sheet, or the power ledger sheet they appear to," he said. "It's a very shaky foundation when we believe that militarizing features are somehow going to endorse their standing in the world."
Mattis's comments appeared to be an attempt to reaffirm the U.S. commitment to Asia's security, even as Trump's decisions to levy tariffs on allies and withdraw from international agreements raise questions about America's postwar alliances.
https://www.myfxe.com/wp-content/uploads/2018/06/16076/singapore-says-u-s-china-both-risking-status-quo-with-actions.jpg
533
800
euitsols
https://www.myfxe.com/wp-content/uploads/2018/04/myfxe-300x140.png
euitsols
2018-06-04 18:01:53
2018-06-04 18:01:53
Singapore Says U.S., China Both Risking Status Quo With Actions