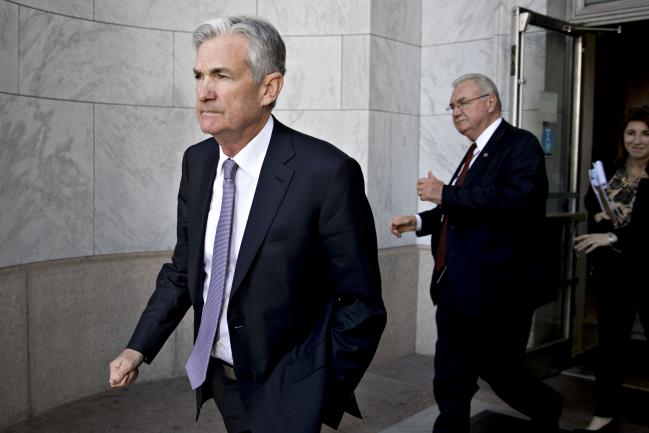 © Bloomberg. Jerome Powell, chairman of the U.S. Federal Reserve, walks out of the Rayburn House Office building after a House Financial Services Committee hearing in Washington, D.C., U.S., on Tuesday, Feb. 27, 2018. Powell said the central bank can continue gradually raising interest rates as the outlook for growth remains strong, and the recent bout of financial volatility shouldn't weigh on the U.S. economy.
(Bloomberg) — Jerome Powell will likely make headlines Wednesday with an interest-rate hike in his first meeting as Federal Reserve chairman. But look to the fine print for his biggest news.
The rate-setting Federal Open Market Committee is expected to lift the target by a quarter percentage point to 1.5 percent to 1.75 percent after its two-day meeting in Washington on Wednesday. A policy statement will be released at 2 p.m. and he'll host a press conference that begins 30 minutes later.
Revised FOMC forecasts, which in December penciled in three rate hikes this year, could increase to four if Powell and his colleagues decide the central bank should tighten more in light of Congress's passage of a $1.5 trillion tax overhaul and $300 billion in spending. Beyond the 2018 dots, Powell will be able to signal the Fed's intentions in a number of ways. Here are several places to look:
Longer-term target rate
The FOMC has estimated the long-term federal funds rate at 2.8 percent, which could move up to 3 percent based on fiscal stimulus and global growth.
"It would take very little to move the median projection for the neutral funds rate to 3," said Jonathan Wright, an economics professor at Johns Hopkins University in Baltimore and a former Fed economist. Changing the path is "a risk-management decision, not a reaction to any data in hand."
Unemployment forecasts
The FOMC has estimated that the long-term jobless rate is about 4.6 percent, meaning the current level of 4.1 percent is overshooting the policy committee's view of full employment.
"There is a good chance they lower it," said Neil Dutta, head of U.S. economics at Renaissance Macro Research. "Every month that wage and price inflation is low is an argument that they should lower it. Directionally, it should go lower. This would be a dovish sign."
Balance of risks
In its statement, the FOMC has said that near-term risks to the economic outlook are "roughly balanced." Almost half of economists surveyed by Bloomberg expect that to change to remove "roughly" or cite upside risks.
Such a move would be hawkish, signaling the policy committee might be anxious about an overheating economy.
Economic currents
The FOMC in December estimated 2.5 percent economic growth this year, though that was prior to passage of the $300 billion spending package. Powell told Congress this month the economy was "strong" and tax cuts would add "meaningfully to growth."
In the FOMC statement, the committee could be conflicted about what to say because estimates of first-quarter growth are falling — and the Atlanta Fed's tracking estimate is below 2 percent.
"I would see the committee as being cautious," said Robert Eisenbeis, vice chairman of Cumberland Advisors Inc. and a former Atlanta Fed research director. "I would look for the key word being either moderate or modest. Moderate is a bit more positive than modest."
Meeting the Press
New Fed leaders have sometimes not been as polished in their first press conferences, making Powell's appearance a "big wild card," said Roberto Perli, a partner at Cornerstone Macro LLC in Washington.
One sensitive question for Powell, appointed by President Donald Trump, will be the impact of Trump's recent tariffs on aluminum and steel on the U.S. and global economy. Another politically charged issue is the rise of government debt, a topic about which Powell has expertise as a former visiting scholar focusing on fiscal issues at the Bipartisan Policy Center in Washington.
What Our Economists Say
A rate hike is broadly anticipated, and therefore should be taken in stride by financial markets. While Powell may differ somewhat from his predecessor in terms of communication style and stances on regulation, there does not appear to be a significant divergence with respect to the monetary policy outlook.
— Carl Riccadonna and Yelena Shulyatyeva, Bloomberg Economics
More pressers?
One area where Powell could break with his predecessors is on the frequency of press conferences. The Fed chair currently takes questions from reporters four times a year, after FOMC meetings at which policy makers update their economic forecasts. Fed watchers believe Powell is predisposed to holding press conferences after each of the committee's eight meetings, though a decision to go ahead might not come until the summer, after the new Fed chairman gets a few under his belt.
Officials insist every meeting is "live" for a rate change but investors generally don't believe them. While such a move would give the Fed more flexibility, it would also run the risk of being seen as a signal that the Fed wants to step up the pace of its interest rate increases.
https://www.myfxe.com/wp-content/uploads/2018/03/1916/powell-to-ponder-hawkish-tone-in-fomc-debut-decision-day-guide.jpg
433
649
euitsols
https://www.myfxe.com/wp-content/uploads/2018/04/myfxe-300x140.png
euitsols
2018-03-22 08:59:19
2018-03-22 08:59:19
Powell to Ponder Hawkish Tone in FOMC Debut: Decision Day Guide