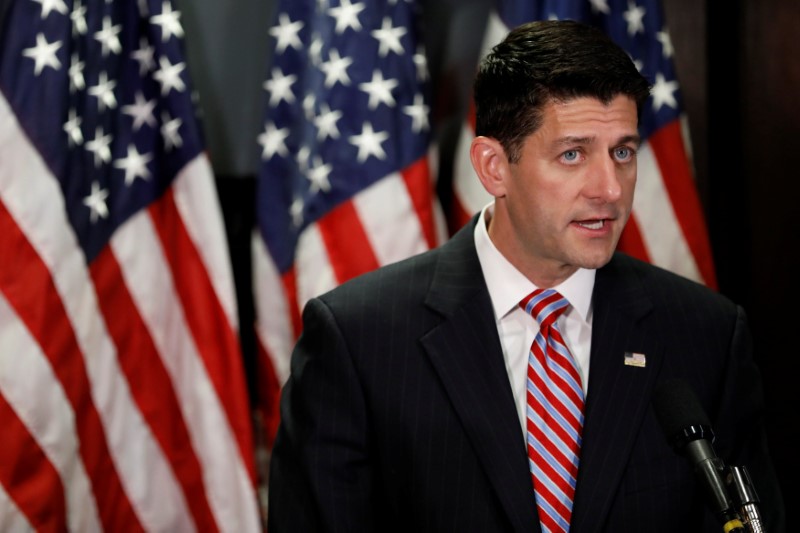 © Reuters. Nafta Negotiators Set to Miss Ryan's May 17 Target Without Deal
(Bloomberg) — Nafta negotiators from the U.S., Canada and Mexico are poised to miss House Speaker Paul Ryan's deadline this week, the latest blown marker for reworking the 24-year-old deal.
U.S. Trade Representative Robert Lighthizer, Mexican Economy Minister Ildefonso Guajardo and Canadian Foreign Affairs Minister Chrystia Freeland aren't scheduled to meet together in person this week, according to three government officials familiar with talks who spoke on condition of anonymity. The trio met at least bilaterally every day last week.
The Trump administration is increasingly preoccupied with its efforts to reach a peace deal with North Korea and avoid a trade war with China. Senior economic adviser Liu He will be in Washington this week for talks with the administration on ways to resolve the trade dispute between the two countries.
Lower-level Nafta talks will continue and could yield a breakthrough and a ministerial meeting, but none has been scheduled so far, according to the people. The three officials said the ministers could meet next week, or later in the month. Chief negotiators are scheduled to hold a conference call early this week to assess the status of the talks and whether a ministerial meeting is feasible later this week, one of the people said.
While the ministers will keep in touch by phone, the lack of a face-to-face meeting after such a big push last week would show how far apart the sides remain on updating the North American Free Trade Agreement. Ryan injected a sense of urgency when he said lawmakers need notice of intent to sign a deal by May 17 so they can vote before this Congress ends in December.
The Canadian dollar pared its gain in Monday morning trading in New York, while Mexico's peso reached its lows of the day, falling 0.3 percent to 19.4860 per dollar.
Work Continues
Although Ryan's comments put the firmest deadline yet on Nafta talks, many analysts have said U.S. deadlines are murky, and that a deal reached later in May or even in June could theoretically get passed.
Whether Lighthizer could seek to notify Ryan by Thursday of his intent to sign, without an actual deal in place, is somewhat unclear. Lighthizer cited the House speaker's deadline to pressure his Canadian and Mexican counterparts during a trilateral meeting Friday, according to two people familiar with the talks. President Donald Trump's trade chief has indicated he needs a deal this month but hasn't publicly identified a particular day.
Emily Davis, a spokeswoman for Lighthizer, referred to a written statement he released Friday when asked for comment Monday. In it, Lighthizer said talks have "covered a large number of very complex issues" and the U.S. "is ready to continue working with Mexico and Canada to achieve needed breakthroughs on these objectives." The statement made no mention of any deadline.
Freeland is in Mexico City Monday for talks on Venezuela and hasn't said if she will meet Guajardo privately there.
In a sign of the dimming odds for an imminent deal, Guajardo and his team told dozens of stakeholders from Mexico's private sector they should return home from Washington because no breakthrough was expected, according to two people familiar with the meeting. Stakeholders from all three countries are canceling or delaying visits to Washington this week, four other people familiar with the talks said.
The existing Nafta remains on the books unless a country withdraws, which would require six months notice. No country has given that notice, though Trump has threatened to do so. On Friday, the president called Nafta a "horrible disaster" for the U.S.
Lighthizer has said the political calculus for passing a new Nafta would change if it had to be voted on by the next Congress. Mexico and Canada have downplayed the urgency to reach a deal this week.
The countries have been holding periodic discussions since August. They had initially sought a deal by December, and then by March, and are now in what they consider a continuous round of negotiations. Talks have focused recently on the auto sector, with Canada hailing progress but with big gaps still remaining. Even if the sides agree on auto rules, they remain far apart on issues such as a sunset clause and dispute-settlement panels.
Ryan is pushing for a deal because of timelines in U.S. trade law, but another deadline looms. Mexico's election will be held July 1 and looks set to usher in a new president who could seek changes to anything not yet finalized.
https://www.myfxe.com/wp-content/uploads/2018/05/12479/nafta-negotiators-set-to-miss-ryans-may-17-target-without-deal.jpg
533
800
euitsols
https://www.myfxe.com/wp-content/uploads/2018/04/myfxe-300x140.png
euitsols
2018-05-15 06:20:19
2018-05-15 06:20:19
Nafta Negotiators Set to Miss Ryan's May 17 Target Without Deal