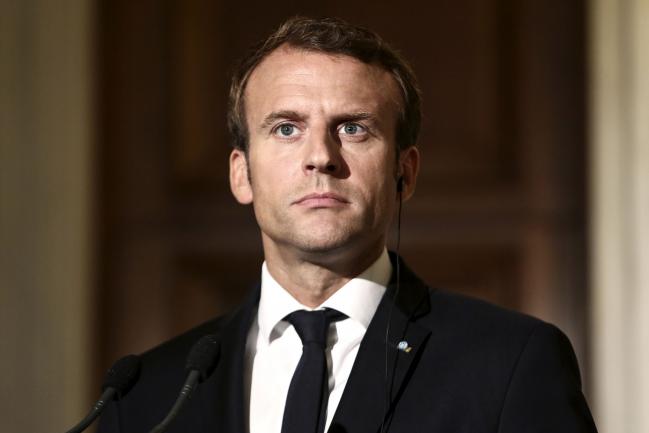 &copy Bloomberg. Emmanuel Macron. Photographer: Yorgos Karahalis/Bloomberg
(Bloomberg) — French President Emmanuel Macron lands in Washington Monday aiming to use his rapport with Donald Trump to take the edge off the latter's "America First" foreign policy, for Europe at least.
As 40-year-old Macron arrives for the first state visit of Trump's presidency, the U.S. leader is threatening to upend the global trading system with tariffs on China, maybe Europe too, and to ditch the Iran nuclear accord, a key plank of western policy for containing military tensions in the Middle East.
Macron has been building bridges with Trump for a year. Now he's looking for something in return.
"Both of us are probably mavericks," the French president said in a Fox News interview taped in Paris on Friday and broadcast Sunday. "We have a very special relationship."
While Macron has had more success than most in getting through to Trump, his record of securing policy concessions is patchy. He pointed to this month's missile strikes against Syria as a victory for French diplomacy, but he failed to keep the U.S. in the Paris climate accord and his aides last week played down expectations that he might persuade Trump to change course on other issues.
"This visit will promote the narrative that the two men have a good relationship, but it may not make much of a difference," said Jeremy Shapiro, research director at the European Council on Foreign Relations in London. "A personal relationship is great, but Trump doesn't remember it once you've left the room."
State Dinner
On the first night, the two leaders will have dinner with their wives at George Washington's estate in Mount Vernon, Virginia, overlooking the Potomac River. Macron will present his host with an oak tree from a forest where U.S. troops fought to defend France during World War I.
Tuesday night will be a state dinner at the White House at which Brigitte Macron may wear a gown by Louis Vuitton, her designer of choice. The rest of the guest list has been closely guarded so far, though LVMH Chairman Bernard Arnault may make the cut as the only French business leader to have shaken Trump's hand. On the final day of his trip Macron will address a joint session of Congress — in English — and meet students at George Washington University.
"He has been one of the few Europeans who has pulled off the trick of building a close and strong working relationship with President Trump while also not shying away from criticism," said Jeff Rathke, deputy director of the Europe Program at the Center for Strategic and International Studies in Washington and a former State Department official. "We'll probably see some of that."
Doing Business
Macron's chance to turn the bonhomie into policy substance comes during extended talks on Tuesday.
French officials say they've been briefed by their White House counterparts that Trump still hasn't decided whether he'll stick with the Iran nuclear deal. The agreement was the signature foreign-policy achievement of Barack Obama's presidency and perhaps the most intense U.S. diplomatic push since the aftermath of World War I.
Trump, 71, is a long-time critic of the accord. He wants more action to stop Iran developing its ballistic missile program and expanding its influence in the Middle East — issues that aren't covered in the current agreement. Macron plans to offer additional commitments from European nations to guarantee that the deal will keep Iran in check.
Macron said that he wants to extend the deal, which he described as imperfect, to include ballistic missiles and "regional containment." He said he hopes Trump upholds the agreement because it serves as a hedge against a "North Korean type of situation," of prolonged threats between nuclear powers.
"I think the U.S. today has a very strong role to play for peace in different regions of the world, and especially the Mideast," Macron said in his Fox News interview.
"The French president will have prepared a few 'fixes' to the Iran deal, climate accord, and trade issues to deliver Trump something he thinks is a win," said Brett Bruen, a former State Department official under Obama and President George W. Bush. "Macron has mastered the art of the deal when it comes to Trump — forget about the substance, focus on his feelings, furnishing him with flattery and a touch of French flair."
Trump's experience sending his forces into combat alongside their French allies this month may strengthen Macron's chances of making progress on other issues, analysts said.
France's position as the EU's foremost military power gives Macron an advantage over Chancellor Angela Merkel, who's derided by the Trump administration for Germany's reluctance to join military action, its low defense spending, and its trade surplus with the U.S.
Read more about Trump's relationship with Macron here
Trade will be Macron's other challenge. He was in Berlin last week to coordinate his arguments with Merkel before the German leader visits the White House on Friday.
Trump wants the Europeans to ease the barriers to U.S. exporters seeking access to their markets. Macron and Merkel will both argue that unilateral moves on trade policy are destructive, as they try to persuade Trump not to sabotage the World Trade Organization's rules-based trading system.
"I hope he will not implement these new tariffs and he will decide for an exemption for the European Union," Macron said on Fox. "You cannot make a trade war with your ally."
https://www.myfxe.com/wp-content/uploads/2018/04/8538/maverick-to-maverick-macron-to-seek-common-ground-with-trump.jpg
433
649
euitsols
https://www.myfxe.com/wp-content/uploads/2018/04/myfxe-300x140.png
euitsols
2018-04-23 16:18:14
2018-04-23 16:18:14
Maverick to Maverick, Macron to Seek Common Ground With Trump