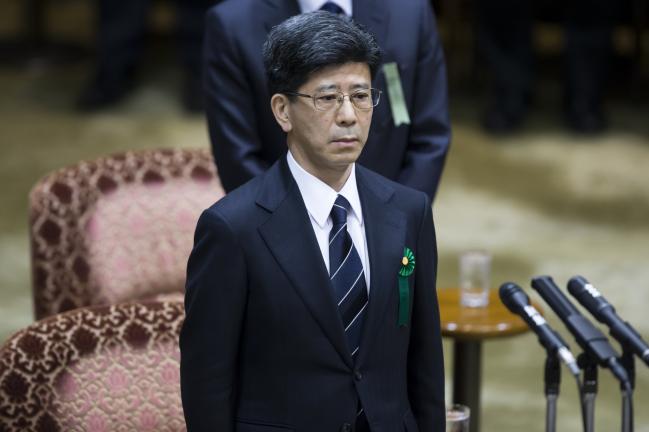 © Bloomberg. Nobuhisa Sagawa on March 27.
(Bloomberg) — A former Finance Ministry bureaucrat at the center of the cronyism scandal surrounding Japanese Prime Minister Shinzo Abe said that no one from the premier's office gave orders to falsify documents related to a controversial land deal.
Nobuhisa Sagawa resigned earlier this month amid questions over his role in the sale of public land for a fraction of its value to a school operator with ties to the prime minister's wife. The Finance Ministry has admitted it altered documents relating to the transaction.
Sagawa told parliament Tuesday that neither Abe, nor his wife or Finance Minister Taro Aso asked for the papers on the deal to be doctored. He added that concerns about a criminal investigation prevent him from answering questions about how or when he knew documents had been altered.
While support for opposition parties remains weak, it is rising, and public anger has cast a shadow over Abe's prospects of winning a third term as president of the ruling Liberal Democratic Party in a September election. The allegations of cronyism have also sparked calls for Aso to resign, and are hampering Abe's bid to achieve his long-held ambition of changing the pacifist constitution.
Sagawa oversaw a division involved in negotiating the sale of a tract of land to Moritomo Gakuen, the operator of a kindergarten known for espousing elements of the pre-war nationalist curriculum and for explicitly backing Abe. The land was to have been used for a new elementary school and Abe's wife, Akie, was to have served as honorary principal.
The Finance Ministry has said 14 documents, including an official agreement to sell the land, were altered after the scandal emerged last year. The names of Abe's wife and several politicians were removed, along with a reference to the sale as a "special case".
A man from Kagawa Prefecture filed a criminal complaint for falsifying public documents against Sagawa and another individual on March 16, the Fuji News Network reported. Comments by Sagawa, who was promoted in July to head the National Tax Agency, were frequently interrupted by opposition jeering.
'Meaningless' Testimony
"This testimony is completely meaningless," Akira Koike, a lawmaker with the Communist Party, told the committee after Sagawa had refused to answer a question. "Not only Mr. Sagawa, but Ms. Akie Abe must give the testimony the opposition parties are seeking. There is no other way to resolve this."
Tetsuro Fukuyama, a lawmaker in the main opposition Constitutional Democratic Party, said: "This testimony has greatly deepened suspicions. You have come here to give testimony, but you have added fuel to the fire."
Lawmakers are seeking to find out why the land was sold for 134 million yen (about $1.27 million), a discount of about 800 million yen, and who ordered the subsequent cover-up. Abe was not present for the testimony, which continues in the afternoon.
QuickTake: The School Scandal Haunting Japan Prime Minister Abe
An Asahi News Network poll conducted over the weekend showed Abe's approval rating fell 11.7 percentage points to 32.6 percent over the past month, while disapproval rose 13.2 points to 54.9 percent. A separate newspaper poll found 49 percent of respondents disapproved of the premier, compared with 42 percent who approved.
Abe has repeatedly apologized over the scandal, denying that either he or his wife were involved in the transaction or the alteration of documents. On Monday, he told a parliamentary committee he would take responsibility if his statements about Akie were found to contain any lies.
"I bear political responsibility for my remarks in parliament, which is different from my wife giving a press conference," he said, when an opposition lawmaker urged him to have Akie speak in public. "If there's any mistake or falsehood, I will take responsibility."
Some 63 percent of those surveyed in the ANN poll said Abe's wife should testify in parliament, and about half said his entire cabinet should step down.
(Updates throughout with details from committee session.)
https://www.myfxe.com/wp-content/uploads/2018/03/3491/japan-school-scandal-official-denies-abe-ordered-cover-up.jpg
432
649
euitsols
https://www.myfxe.com/wp-content/uploads/2018/04/myfxe-300x140.png
euitsols
2018-03-28 05:04:25
2018-03-28 05:04:25
Japan School Scandal Official Denies Abe Ordered Cover-Up