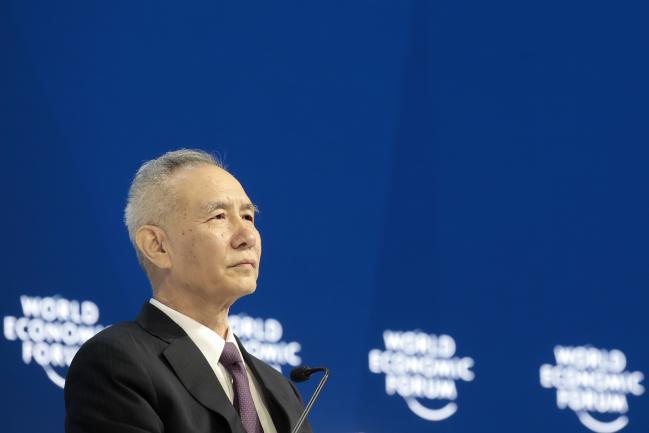 © Bloomberg. Liu He, director of the central leading group of the Communist Party of China, looks on during a special session on day two of the World Economic Forum (WEF) in Davos, Switzerland, on Wednesday, Jan. 24, 2018. World leaders, influential executives, bankers and policy makers attend the 48th annual meeting of the World Economic Forum in Davos from Jan. 23 – 26.
(Bloomberg) — President Xi Jinping's pick to lead the People's Bank of China will finally be announced March 19, five months after incumbent governor Zhou Xiaochuan said he'd retire "soon."
If Zhou does step down after 15 years in charge, he'll be handing on the reins of a central bank that's much more influential than the one he took over, both at home and abroad. On Monday, members of the National People's Congress, China's legislature, will vote on a candidate that Xi has almost certainly already chosen, with a rejection highly unlikely.
Click here to read how the PBOC now has more clout than when Zhou took over
Here are five contenders for one of global central banking's most important jobs, and what Bloomberg economists think of their track records. The list is in an alphabetical order, and there's no guarantee that the ultimate winner of the post is among these five.
Guo Shuqing, 61
Like Zhou, Guo is a fluent English speaker who has previously served as deputy governor of the PBOC and also as regulator of the country's securities markets. As chairman of the China Banking Regulatory Commission since last February, Guo has led a campaign to curb financial risks that's central to Xi's plans, starting with a crackdown on shadow financing and measures to squeeze interbank market liquidity.
He then moved on to participating in a move to clamp down on overseas investments by top dealmakers, asking banks to detail loans to companies such as Anbang Insurance Group Co. and Fosun International Ltd.
What Our Economists Say:
"Guo has demonstrated tough-minded reform credentials. In his brief tenure at the head of the securities regulator, he attempted to clean up the IPO process and crack down on insider trading. As chief banking regulator, he's moved aggressively against banks' reliance on high-risk short-term funding."
–Bloomberg economists Tom Orlik and Fielding Chen
Jiang Chaoliang, 60
Jiang led the PBOC's Shenzhen and Guangzhou branches during the Asian financial crisis before being promoted to assistant governor in 2000. During this stint, he handled the collapse of Guangdong International Trust and Investment Corp., China's biggest-ever corporate bankruptcy at the time. Jiang has worked his way through key positions at several state banks and has served as the governor of Jilin province. He's now the Communist Party secretary for Hubei, a province almost as populous as Italy.
What Our Economists Say:
"Jiang, a veteran politician, banker, and regulator, will be able to draw on a range of experience. If reining in financial system risks is a priority, Jiang ticks the boxes. In his latest role as provincial chief he's not stood out as a reformer. Even so, given that a significant part of the deleveraging challenge is corralling local leaders, experience in the trenches of provincial politics could be an advantage."
Liu He, 66
Liu, a member of Xi's inner circle, is widely expected to be appointed vice premier in charge of financial and economic affairs, making him the president's right-hand man on the topic. Should he also assume leadership of the central bank, it will send a very clear signal of the PBOC's elevated status.
After promotion to the Politburo last year, the power center of the Communist Party, the Harvard-educated economist has emerged from the behind-the-scenes as the "brain" behind the ongoing overhaul in the world's second largest economy, and a spokesman representing China's top leadership in international arenas from Davos to Washington.
What Our Economists Say:
"Concentration of all that economic firepower in one person also brings risks. There's a reason monetary, fiscal, and financial policy, and – in China – party and state roles, are usually separated. Bringing them together amplifies the impact of good decisions, but also of bad ones."
Xie Fuzhan, 63
Xie's name has only been mentioned by analysts much later in the game, and it will be a surprise if he snatches the post. An engineering graduate who also was a visiting scholar at Princeton, Harvard and Cambridge, according to an official biography, Xie now serves as party chief of Henan, the biggest agricultural province.
While Xie has little financial sector experience, he worked for nearly two decades in the State Council's Development Research Center, overlapping briefly with Liu before rising to deputy director of the government-backed think tank in 1999. He was named director of the National Bureau of Statistics in 2006, a position that also involves serving as a member of the PBOC monetary policy committee, an advisory panel. He returned to the State Council in 2008 as director of the Research Office, giving him more influence over policy setting as a top adviser to then-Premier Wen Jiabao.
Yi Gang, 60
Selecting Zhou's No. 2 at the PBOC would signal national leaders aim to keep monetary policy consistent as financial markets liberalize and economic growth slows from the soaring pace of past decades. Yi joined the central bank in 1997 and served in a succession of roles before his promotion to deputy governor in 2007. Like Zhou, Yi is also a fluent English speaker with longstanding links to global economic leaders.
To contact Bloomberg News staff for this story: Yinan Zhao in Beijing at yzhao300@bloomberg.net, Miao Han in Beijing at mhan22@bloomberg.net.
To contact the editors responsible for this story: Jeffrey Black at jblack25@bloomberg.net, Jeff Kearns
©2018 Bloomberg L.P.
https://www.myfxe.com/wp-content/uploads/2018/03/323/here-are-names-in-the-mix-to-become-chinas-top-central-banker.jpg
433
649
euitsols
https://www.myfxe.com/wp-content/uploads/2018/04/myfxe-300x140.png
euitsols
2018-03-15 05:26:17
2018-03-15 05:26:17
Here Are Names in the Mix to Become China's Top Central Banker