There are a number of individual currencies that I would consider far off their fundamental marks. Extreme underpriced are the Australian and US Dollars. On the opposite end of the spectrum, the Euro and Pound are far overbought relative to their underlying circumstances. Keeping tabs on those scheduled and probable events that can stir the market and the technical patterns that can make the opportunities worthy of trade, I am starting to plot out my entry.
The Australian Dollar is arguably one of the most over-sold majors in the mix. Though its yield has struggled and risk trends have not raised the profile of the wayward carry trade, this currency has been deflating for years. This could potentially translate to a number of opportunities, but I'm most interested in GBP/AUD as it pairs to an overbought currency: the Sterling. I like the pair below 1.8100, but it is also important to consider my net exposure to the Aussie Dollar should the opportunity arise.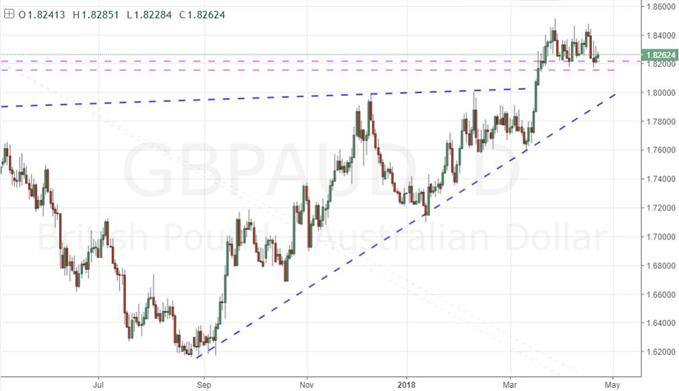 I already have long exposure on AUD/NZD which pairs two very similar currencies for risk disposition, monetary policy standing, economic health, relationship to China and trade. That plays in its favor as a pair that will generally hold to broad range – the pair is coming off a multi-year rising trendline support. As for AUD/USD, I consider the Dollar oversold as well. However, with AUD/USD coming up on trendline support dating back to January 2016, it looks like another opportunity of a 'path of least resistance'. If 0.7650 gives and/or the Greenback starts a genuine recovery, this tide can change.
In my book, there are no other majors more overbought than the Euro. A persistent advance through 2017 only pumps up the unreasonable anticipation and puts it to the speculative task. Yet, as primed as this currency may be relative to its major pairings, it has proven remarkably stubborn. The best option in my book should the Euro start to fall apart is the EUR/USD (see the DailyFX forecasts for the Dollar and Euro through the quarter here). A technical milestone of serious merit is the range floor of the past three months and the midpoint of the pair's historical around around 1.2175/25. Turning this tide would be a milestone for not only the Euro but the Dollar as well. Patience and conviction are essential to this trade.
Meanwhile, the EUR/CHF can pair the concept of a stretched Euro to the natural appeal in a path-of-least-resistance market move. This pair has recovered all of its lost ground since the dramatic day in January 2015 when the SNB removed its 1.2000 floor. The SNB wants its currency to continue to slide, but the ECB wants the same for its now buoyant currency. An aggressive approach to this troubled pair would be a move below 1.1950, a little more conservative is 1.1900.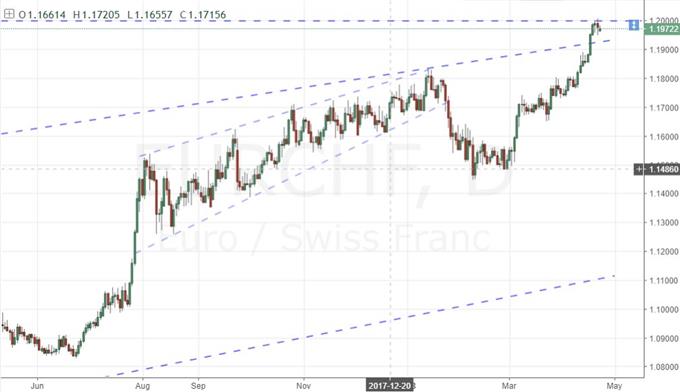 https://www.myfxe.com/wp-content/uploads/2018/04/8530/fundamental-charge-to-technical-cues-for-aussie-eur-usd-eurchf.jpg
391
679
euitsols
https://www.myfxe.com/wp-content/uploads/2018/04/myfxe-300x140.png
euitsols
2018-04-23 16:18:06
2018-04-23 16:18:06
Fundamental Charge to Technical Cues for Aussie, EUR/USD, EURCHF