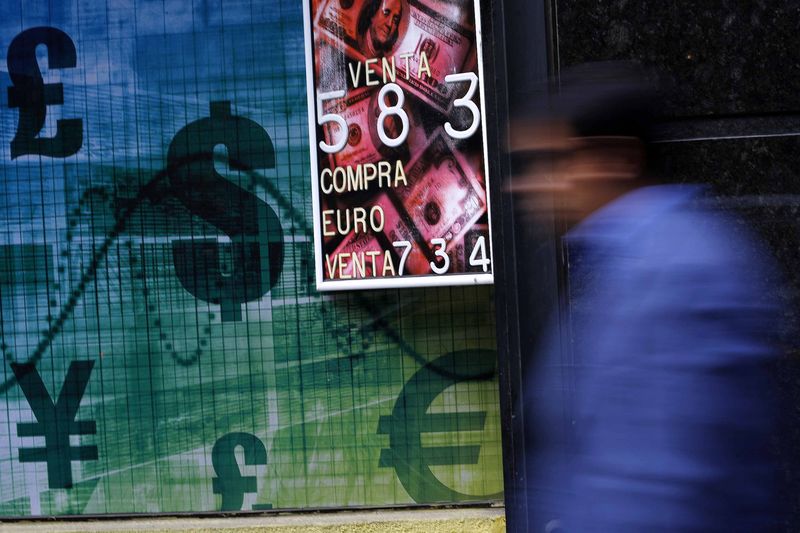 © Reuters. FOREX-Dollar holds firm vs yen on hopes of detente in East Asia
* Dollar up 1.4 pct vs yen on Wed, biggest gain since Sept
* Hopes of easing tension over North Korea help dollar
By Hideyuki Sano
TOKYO, March 29 (Reuters) – The dollar held firm against the yen on Thursday, having made its biggest daily gain in more than a half year, helped in part by hopes of detente in East Asia.
The dollar changed hands at 106.82 yen , extending its rebound from Monday's 16-1/2-month low of 104.56. On Wednesday it gained 1.43 percent, the biggest rise since Sept 11.
China said on Wednesday North Korea's leader Kim Jong Un pledged his commitment to denuclearisation while U.S. President Donald Trump tweeted that Kim looked forward to meeting with him. Asahi newspaper reported on Thursday that Tokyo has sounded out the North Korean government about a bilateral summit, just days after Kim met Chinese President Xi Jinping. of this has prompted some speculation among traders that a dipolmatic breakthrough over North Korea's nuclear programme might be closer at hand than at anytime before, even though the hurdles to a solution remain stiff.
Because of Japan's status as a net creditor nation, the yen tends to to be bought on rising geopolitical tensions and vice versa.
Some traders also noted, however, that currency trading so far this week has been driven by flows related to quarter-end, and for many Japanese firms, the financial year end, on March 31.
"There are a lot of noises this week. We feel quarter-end, and financial-year end flows are somehow larger this year than usual," said Bart Wakabayashi, Tokyo Branch Manager of State Street.
Traders say the dollar/yen's fall earlier this week could reflect Japanese exporters' dollar-selling before the financial year-end.
On the other hand, Wednesday's gains could stem from buying by Japanese investors for the new financial year as the currency deals will be settled next Monday, after the start of the new financial year.
The euro traded at $1.2310, having lost 0.75 percent on Wednesday and slipping further from Tuesday's high of $1.24765.
The euro was undermined by soft euro zone economic data and comments from some European Central Bank officials suggesting the ECB is in no hurry to wind back its stimulus given the spectre of low inflation.
Although expectations of an exit from the ECB's stimulus had boosted the euro since last year, the common currency has been in a holding pattern since hitting a three-year high of $1.2556 on Feb. 16, with its March 1 low of $1.21545 seen as an immediate support level.
So for traders there is probably a lot running on German consumer price data for March, due at 1200 GMT.
That will be followed by U.S. consumption and price data, which will be closely watched for the Federal Reserve's monetary tightening outlook.
In the U.S. too, expectations of faster pace of tightening have been receding after the Fed last week stuck to its projection that three rate hikes are most likely this year, including the one it made in March.
Elsewhere, the Australian dollar AUD=D4 hit a three-month low of $0.76515. The currency, often used as a proxy on bets on the Chinese economy, has been dogged by concerns over a trade war between the United States and China. (Editing by Shri Navaratnam)
https://www.myfxe.com/wp-content/uploads/2018/03/3762/forex-dollar-holds-firm-vs-yen-on-hopes-of-detente-in-east-asia.jpg
533
800
euitsols
https://www.myfxe.com/wp-content/uploads/2018/04/myfxe-300x140.png
euitsols
2018-03-29 04:59:02
2018-03-29 04:59:02
FOREX-Dollar holds firm vs yen on hopes of detente in East Asia