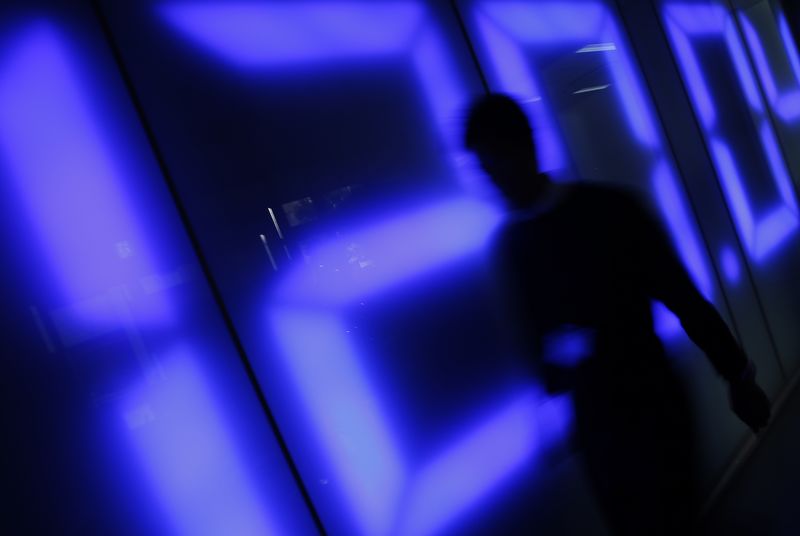 © Reuters. FOREX-Dollar falls as China-U.S. trade dispute escalates
* Dollar steadies vs yen after last week's rally
* Focus on global trade tensions , U.S. data this week (Recasts, adds comment, FX table, changes byline, dateline; previous SINGAPORE)
By Gertrude Chavez-Dreyfuss
NEW YORK, April 2 (Reuters) – The dollar fell for a second straight session on Monday in generally thin trading as China imposed extra tariffs on U.S. products, escalating a dispute between the world's biggest economies.
Volume was light as some European markets are closed for the Easter Monday holiday.
"Broader market sentiment was dampened by ongoing trade tensions between the U.S. and China," said Joe Manimbo, senior market analyst, at Western Union Business Solutions in Washington.
China has slapped extra tariffs of up to 25 percent on 128 U.S. products including frozen pork, as well as on wine and certain fruits and nuts, in response to U.S. duties on imports of aluminum and steel, China's finance ministry said. tariffs, to take effect on Monday, match a list of potential tariffs on up to $3 billion in U.S. goods published by China on March 23. dollar was down 0.2 percent at 89.934 against a basket of six major currencies, backing off from a one-week high of 90.178 set last Thursday.
But the dollar was up 0.1 percent against the yen at 106.24 , after rising more than 1.5 percent last week for its biggest weekly gain since September 2017.
The U.S. currency rose against the yen last week, helped by signs China and the United States were working behind the scenes to avoid a full-blown trade war, as well as hopes for a diplomatic breakthrough over North Korea's nuclear programme.
The dollar's gains versus the yen were viewed as short-lived given the tension between the world's two largest economies.
The Trump administration is expected to release a list of other products to be targeted with tariffs by Friday.
The U.S. move will likely trigger a second round of countervailing penalties from China, which could include strategically-vital product categories such as soybeans and aircraft, Karl Schamotta, director of global product & market strategy at Cambridge FX in Toronto, said.
Beyond the potential trade war, the markets are also focused on U.S. data this week, led by the non-farm payrolls report for March. The reports should determine the path for future interest rate increases, analysts said.
The euro, meanwhile, was little changed at $1.2319 .
Although expectations of an exit from the European Central Bank's stimulus had boosted the euro since last year, the common currency has been in a holding pattern since hitting a three-year high of $1.2556 on Feb. 16, with its March 1 low of $1.21545 seen as an immediate support level.
========================================================
Currency bid prices at 9:57AM (1357 GMT) Description
RIC
Last
U.S. Close Pct Change
YTD Pct
High Bid
Low Bid
Previous
Change
Session
Euro/Dollar
EUR=
$1.2320
$1.2321
-0.01%
+2.70%
+1.2344
+1.2311 Dollar/Yen
JPY=
106.3500
106.2600
+0.08%
-5.61%
+106.4400 +106.2000 Euro/Yen
EURJPY=
131.04
130.97
+0.05%
-3.06%
+131.2900 +130.8200 Dollar/Swiss
CHF=
0.9535
0.9534
+0.01%
-2.13%
+0.9550
+0.9528 Sterling/Dollar GBP=
1.4043
1.4015
+0.20%
+3.92%
+1.4077
+1.4020 Dollar/Canadian CAD=
1.2883
1.2891
-0.06%
+2.42%
+1.2900
+1.2862 Australian/Doll AUD=
0.7666
0.7678
-0.16%
-1.73%
+0.7697
+0.7667 ar
Euro/Swiss
EURCHF=
1.1749
1.1747
+0.02%
+0.51%
+1.1763
+1.1749 Euro/Sterling
EURGBP=
0.8771
0.8788
-0.19%
-1.25%
+0.8783
+0.8764 NZ Dollar/Dolar NZD=
0.7223
0.7234
-0.15%
+1.93%
+0.7240
+0.7223 Dollar/Norway
7.8561
7.8478
+0.11%
-4.28%
+7.8640
+7.8301 Euro/Norway
EURNOK=
9.6784
9.6630
+0.16%
-1.73%
+9.6854
+9.6613 Dollar/Sweden
SEK=
8.3574
8.3408
+0.19%
+1.90%
+8.3592
+8.3299 Euro/Sweden
EURSEK=
10.2986
10.2794
+0.19%
+4.67%
+10.3003
+10.2716
https://www.myfxe.com/wp-content/uploads/2018/04/4656/forex-dollar-falls-as-china-u-s-trade-dispute-escalates.jpg
536
800
euitsols
https://www.myfxe.com/wp-content/uploads/2018/04/myfxe-300x140.png
euitsols
2018-04-03 04:12:39
2018-04-03 04:12:39
FOREX-Dollar falls as China-U.S. trade dispute escalates