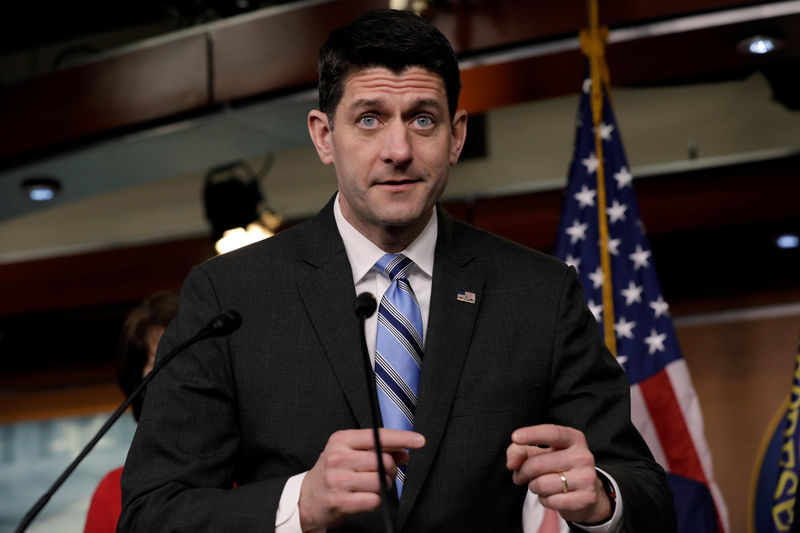 © Reuters. Fiscal Conservatives Poised for Defeat in U.S. Spending Bill
(Bloomberg) — Conservative Republicans are poised to lose another fiscal fight this week as leaders in Congress prepare a $1.2 trillion government spending bill that will increase domestic costs instead of imposing the cuts they want.
House Speaker Paul Ryan and Senate Majority Leader Mitch McConnell plan to rely on Democratic help to push the bill through over the conservatives' objections. If Congress can't pass it by Friday night — or agree to a temporary spending extension — the government could partially shut down for the third time this year.
Lawmakers are set to release details of the spending plan late Monday. So far it's unclear whether the measure will include funding for President Donald Trump's U.S.-Mexico border wall, money for the Gateway rail tunnel between New York and New Jersey that Trump seeks to block, or immigration provisions sought by Democrats.
Democrats have leverage in the negotiations because the GOP needs their help to get the 60 votes to advance the bill in the Senate. It's already clear the amount of spending will leave fiscal conservatives fuming.
"I don't have a whole lot of optimism that there will be any significant conservative wins," said House Freedom Caucus leader Mark Meadows, a North Carolina Republican. "Having not seen the bill but having heard about its contents, the lack of conservative principles in there is a disappointment."
Meadows predicted that many of his colleagues will support the measure, however, because they believe the military needs more funding and the increased domestic spending is a price that must be paid.
Budget Caps
The spending bill, which would fund the government through September, will adhere to a February budget-cap agreement that most House Republicans backed over the objection of fiscal conservatives. Many Republicans voted for the plan because it would boost defense spending by $80 billion this year, while many Democrats agreed because it would increase non-defense spending by $63 billion.
"The spending levels are going to be egregious," said Dan Holler, vice president at Heritage Action for America, the political arm of the conservative Heritage Foundation.
GOP Senator Rand Paul of Kentucky, an opponent of increased government spending, delayed a vote on the budget measure, shutting down the government for several hours on Feb. 9 to protest the added spending. Most of the 28 senators who opposed the cap deal were Republicans protesting spending.
Congressional spending disputes also led to a three-day partial shutdown in January.
Border Wall
In talks for this week's spending bill, the White House floated the possibility of adding funds for Trump's border wall in exchange for Democrats' demand to temporarily shield from deportation thousands of undocumented immigrants brought to the U.S. as children.
Trump wants to block $900 million in the bill that would help fund the Gateway tunnel, which is part of a $30 billion series of repairs and expansions for travel between New Jersey and New York. The president contends the states need to contribute more to a project coveted by lawmakers from the region including Minority Leader Chuck Schumer of New York. The tunnel would supplement a century-old tube that provides the only rail link between New Jersey and Manhattan and is regarded as critical for the Northeast economy.
This week's bill may also include measures to shore up Obamacare, re-activate the Export-Import Bank and impose an internet sales tax.
Republican leaders are worried about losing more support for the bill if Obamacare language is included, Representative Tom Cole said. Negotiations on that have stalled as leaders pushed for anti-abortion restrictions to be tied to any subsidies to Obamacare insurers, something Democrats say is a poison pill.
Opioid Addiction
Ryan and his team will argue there's much in the plan for their party to like, including increased spending to combat opioid addiction and funds to rebuild infrastructure, both of which are backed by Trump.
The bill likely will include other measures designed to attract conservative support. It would block new benefits for Planned Parenthood, which provides abortions and other women's health services, and eliminate funding for a United Nations program that supports developing countries' response to climate change.
Most House Democrats opposed the budget-cap agreement to protest Ryan's refusal to consider legislation to the shield young immigrants, known as dreamers, from deportation after Trump sought to rescind an Obama-era order protecting them. A federal judge has temporarily blocked deportation of the dreamers.
The broad spending measure is set to come to the floor as the GOP agenda is rapidly thinning out, raising the possibility that it will be the last major legislation to clear Congress before this year's congressional election. Republicans are at risk of losing control of both the House and Senate.
Republicans are eager to start campaigning, especially after Democrat Conor Lamb's apparent victory last week in a Pennsylvania special election in a House district that Trump won by 20 percentage points. Tuesday's vote was close and a final result hasn't yet been certified.
Losing Momentum
Significant measures that lawmakers and the White House sought to advance earlier this year are losing momentum.
Trump's proposal for at least $200 billion in infrastructure spending over 10 years is dissolving, in part because top Republicans say there's no consensus on how to fund it. A possible debate over gun control and school safety after last month's high school shooting in Parkland, Florida, appears stalled in the Senate.
GOP leaders in both chambers have said they probably won't advance legislation to nullify Trump's announced tariffs on aluminum and steel, which many lawmakers have said could hurt the U.S. economy and lead to retaliation from other countries.
"There's really not a lot of time to get much done," said Stan Collender, a former congressional budget aide and now executive vice president at Qorvis MSLGroup in Washington. "Congress is going to want to leave early, especially with the prospects of a Democratic wave. The Republican majority is going to want to be home."
https://www.myfxe.com/wp-content/uploads/2018/03/1402/fiscal-conservatives-poised-for-defeat-in-u-s-spending-bill.jpg
533
800
euitsols
https://www.myfxe.com/wp-content/uploads/2018/04/myfxe-300x140.png
euitsols
2018-03-20 10:55:59
2018-03-20 10:55:59
Fiscal Conservatives Poised for Defeat in U.S. Spending Bill