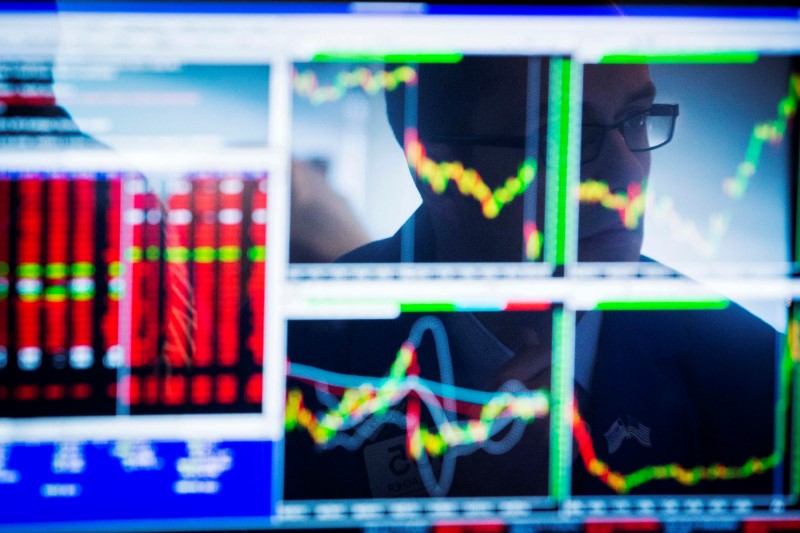 © Reuters. Faultlines for Global Economy as Trump Seeks to Lever China Open
(Bloomberg) — As Donald Trump tries to tear down barriers to China's economy with the threat of tariffs, officials in Beijing are stepping up their pledges to let more goods, services and capital flow.
Liu He, elevated to vice premier this month, used the global stage in Davos in January to spread the word that more opening was coming. Premier Li Keqiang read from the same script at the close of the National People's Congress in March, as did Yi Gang in his first public comments since his appointment as governor of the People's Bank of China.
The prospect of more and fairer access to China's 1.4 billion population and almost $19 trillion financial markets is a tantalizing one for everyone from to Goldman Sachs Group Inc (NYSE:). to Midwest cattle ranchers. Opening up also gels with many of China's long-term goals like broadening use of the yuan, cleaning up bank balance sheets, forcing better productivity from long-cosseted industries and deepening capital markets.
While such an alignment of interests lowers the risk of an all-out economic clash between the U.S. and China — Treasury Secretary Steven Mnuchin said he's optimistic the U.S. can reach an agreement — the sticking point may well come down to timing. Since the days of Deng Xiaoping, China's approach to opening has been to crossing the river by "feeling the stones."
For the world economy, there's a lot riding on how China handles its response. By keeping a tight grip on its currency and capital account, China has proved a source of stability for the rest of the world, especially other developing economies. Open too quickly on those fronts, and that anchor role is undermined.
"If China is isolated from global financial markets, China can be the stabilizer," said Dragon Tang, professor of finance at University of Hong Kong. "If China is integrated, there will be no safe haven any more. Then the whole global economy will move in sync and any global sell-off could be even more violent."
Here are some of the fault lines investors need to keep an eye on as China opens:
Financial markets
The government is gradually opening access to the nation's roughly $11 trillion bond and $7.5 trillion stock markets by creating new channels for foreign money to flow through Hong Kong. Further measures are expected. China already boasts the world's-second largest equity market and third-largest bond market, but ownership is overwhelmingly local.
Read More: China's Bonds to Join Bloomberg Barclays (LON:) Global Aggregate
While foreigners are piling in, the scope for further even more investors seeking an alternative to established markets is huge. The downside is that the opening will create a new source of volatility as gyrations in China will reverberate more directly through global markets.
Banking, Insurance and Securities
Officials have promised to allow more foreign competition in the $44 trillion banking, insurance and securities sectors. UBS Group AG is in discussions to acquire a majority stake in its Chinese securities joint venture and Morgan Stanley (NYSE:) and Goldman Sachs have signaled a desire to take majority stakes in their Chinese ventures. BlackRock and Fidelity International are among global fund managers expanding in China. That will drive competition in a market currently dominated by state-owned lenders and insurers.
Few doubt the ambitions of China's top leadership to have the yuan used more around the world. Inclusion in the International Monetary Fund's basket of currencies in 2016 was a step forward, but progress since then has stalled as strict capital controls are enforced. Letting go of the currency too soon would risk dramatic currency moves and a repeat of the capital outflow scare seen in late 2015 and 2016. On the other hand, a rally in China's currency against the greenback to its strongest since August 2015 is testing policy makers' appetite for currency strength too. New central bank governor Yi Gang has signaled further currency liberalization will be gradual.
Capital Account
China needs to tread carefully in how it relaxes controls on the flow of money across its borders. The upside to freer movement would mean investors can more easily park and move their cash at will, making it easier for big institutional players to pile into onshore markets. But the more plugged into the global financial system, the greater the risk of Made-in-China market shocks for the rest of the world.
Manufacturing and Services Industries
Premier Li Keqiang used appearances at the National People's Congress to promise an opening up of the manufacturing sector and said China would protect intellectual property and not force technology transfers. If those pledges are implemented, they would allow foreign companies greater freedom to cash in on a burgeoning middle class. Chinese companies are becoming increasingly capable at design, branding and marketing, meaning competition for customers will be tough.
Step by Step
Critical for China will be how it rolls out the necessary reforms needed to open up. The best sequencing economists point to is something like the following:
First, clean up and free up the financial sector so the existing pile of debt is managed without any severe economic fallout
Freer access for foreign companies can then drive productivity enhancements across the economy
Then a shift to using interest rates as the major tool to affect credit allocation should follow so capital is used most effectively going forward
With a more market-driven economy, the ground should be laid for greater currency flexibility and freer movement of capital across borders
Economic history is littered with emerging economies that faltered as they opened. With China responsible for about a third of global growth, the world has a lot riding on Beijing getting their response to Trump's pressure top open up right.
https://www.myfxe.com/wp-content/uploads/2018/03/3501/faultlines-for-global-economy-as-trump-seeks-to-lever-china-open.jpg
533
800
euitsols
https://www.myfxe.com/wp-content/uploads/2018/04/myfxe-300x140.png
euitsols
2018-03-28 05:04:28
2018-03-28 05:04:28
Faultlines for Global Economy as Trump Seeks to Lever China Open