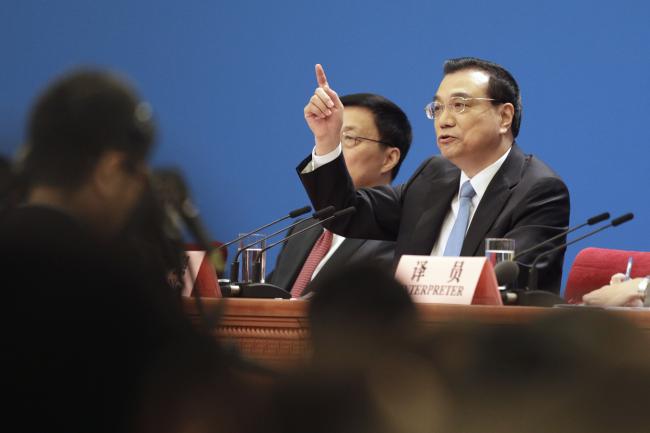 © Bloomberg. Li Keqiang
(Bloomberg) — China made further promises to protect the intellectual property of foreigners investing in its economy, addressing a long-standing grievance as U.S. President Donald Trump plans new tariffs aimed at Beijing.
Speaking at the close of the annual National People's Congress on Tuesday, Premier Li Keqiang said that his nation wants to avoid a trade war and that his government plans to further open the manufacturing sector — and that it won't force foreign companies to transfer technology to domestic ones while doing so.
Li's comments followed reports late Monday in Washington that the White House plans to impose tariffs worth as much as $60 billion on Chinese products as one outcome of an investigation by U.S. Trade Representative Robert Lighthizer, extracting recompense for theft of intellectual property and investment policies that make technology transfer a precondition for doing business in China.
The administration is said to be considering wide-ranging tariffs on everything from consumer electronics to shoes and clothing made in China, as well as restrictions on Chinese investments in the U.S., according to people briefed on the matter.
That's one of the administration's lines of attack to deal with the lopsided bilateral trade account, which according to U.S. data, the trade deficit with China reached a record $375 billion last year, with China's accounting considerably lower.
"A large deficit is not something we want to see," Li said. "We want to see balanced trade. Otherwise this kind of trade would not be sustainable."
The exact size and makeup of the sanctions could still change, said two people who spoke on condition of anonymity because the discussions aren't public. While Trump has repeatedly singled out China as a key trade violator, his toughest actions such as withdrawing from an Asia-Pacific trade pact — which excluded China — and slapping tariffs on steel have undermined relations with allies more than with the world's second-biggest economy.
While China presents measures to make its massive internal market more accessible to outsiders as part of its 40-year "reform and opening-up" process, the current emphasis directly answers complaints that Trump and his advisers use to support their claim that the U.S. is being taken advantage of in trade. Li repeated a suggestion that the U.S. ease restrictions on exports of high-technology goods to China as a way to even the balance.
"Intellectual property rights will be fully protected," he said. "We hope this important means to balance China-U.S. trade will not be missed because that would be missing the good opportunity for making more money."
Read More: Top Xi Aide Is Said to Promise U.S. CEOs Action on Reform
Li spoke at the conclusion of a two-week meeting that included amending the constitution to scrap term limits for President Xi Jinping, the biggest overhaul of financial regulation since 2003 and the appointment of Yi Gang as the first new central bank chief in 15 years. Communist Party leaders also elevated Xi's chief economic adviser Liu He to vice premier, giving him greater sway over policy areas that were traditionally the domain of the premier.
U.S. companies from Walmart (NYSE:) Inc. to Amazon.com Inc (NASDAQ:). warned Trump this week that any sweeping trade action against China could raise consumer prices, increase costs for businesses and hurt stock prices.
Broad tariffs on Chinese goods would "trigger a chain reaction of negative consequences for the U.S. economy," a coalition of more than 40 business groups led by the Information Technology Industry Council said Sunday in a letter to Trump. The coalition includes groups of retailers and makers of everything from toys to wine, while the council represents companies including Amazon, Alphabet (NASDAQ:) Inc.'s Google, Facebook Inc (NASDAQ:). and Microsoft Corp (NASDAQ:).
Read More: Spared Tariff Trauma, China Drugmakers Have Best Day in 3 Years
Li held back from making counter-threats even as the rumblings from Washington again ratchet up the likelihood of a full-scale trade war. He rebuffed suggestions that China could use its $1.2 billion U.S. Treasury holdings as a lever. The Commerce Ministry responded separately, urging the U.S. to respect World Trade Organization rules that prohibit singling out countries for tougher barriers.
"There's no winner in a trade war, and war is going against the rules of trade, which are based on negotiation, consultation and dialogue," Li said. "With China's economy so deeply integrated to the international economy, shutting the door would only block China's own way."
The Washington Post reported earlier Monday that the administration planned to impose $60 billion worth of tariffs by Friday, after the president rejected a proposal by his officials to levy $30 billion in duties.
https://www.myfxe.com/wp-content/uploads/2018/03/1420/china-pledges-action-on-tech-transfer-as-trump-plans-tariff-hit.jpg
433
650
euitsols
https://www.myfxe.com/wp-content/uploads/2018/04/myfxe-300x140.png
euitsols
2018-03-20 10:56:05
2018-03-20 10:56:05
China Pledges Action on Tech Transfer as Trump Plans Tariff Hit