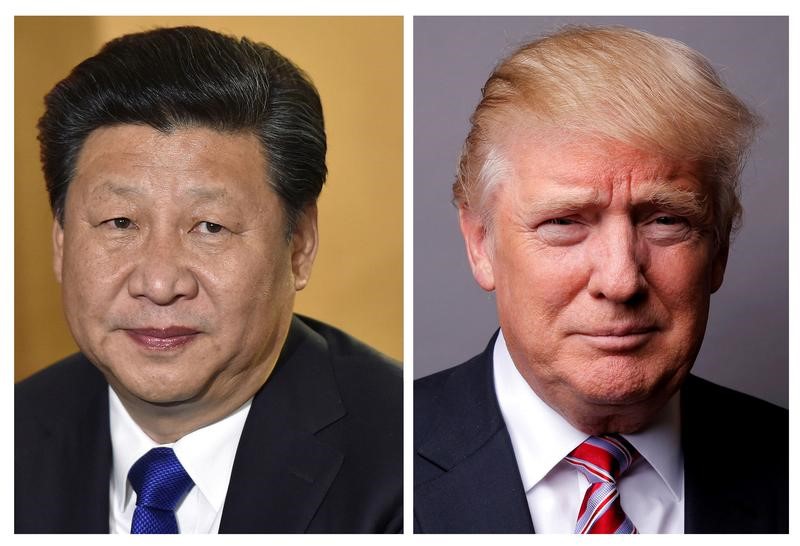 © Reuters. China Hits Back at Trump Tariffs as Trade War Arrives
(Bloomberg) — China said it doesn't fear a trade war with the U.S. and announced plans for reciprocal tariffs on $3 billion of imports from the U.S. in the first response to President Donald Trump's ordering of levies on Chinese metal exports.
China will also pursue legal action against the U.S. at the World Trade Organization in response to the U.S. planned tariffs on steel and aluminum imports, the statement said, and called for dialog to resolve the dispute.
Earlier, Trump instructed U.S. Trade Representative Robert Lighthizer to impose broader tariffs on at least $50 billion in Chinese imports, as recompense for alleged intellectual property abuses. Officials then went on to roll out temporary exemptions for the metals levies for Argentina, Australia, Brazil, Canada, Mexico, the European Union and South Korea.
The announcement of broader tariffs directed specifically at China sent equities tumbling. U.S. stock futures traded lower after the closed down 2.5 percent, the biggest drop in six weeks. Stock indexes from Tokyo to Hong Kong tumbled more than 3 percent and the yen jumped past 105 per dollar for the first time since November 2016.
"The U.S. declared a trade war, but China is acting quite restrained. The list that China has announced appears to be a retaliation, but still it is very measured," said Li Yong, senior fellow of China Association of International Trade. "The move sends a message that China is able to fight back, but we still want a trade peace instead of a trade war."
The U.S. will impose 25 percent duties on targeted Chinese products to compensate for the harm caused to the American economy from China's policies, according to a fact sheet released by USTR. The proposed product list will include items in aerospace, information and communication technology and machinery. The USTR will announce the proposed list in the next "several days," according to the fact sheet.
Long in Making
"This has been long in the making," Trump said, adding that the tariffs could affect as much as $60 billion in goods. "We have a tremendous intellectual property theft situation going on" with China affecting hundreds of billions of dollars in trade each year, he said.
As he signed the tariffs order, Trump told reporters, "This is the first of many."
"This is an opening gambit by China, signaling that the imposition of tariffs by the U.S. will elicit what Beijing views as a proportionate retaliatory response," said Eswar Prasad, a former chief of the International Monetary Fund's China division and now a professor at Cornell University in Ithaca, New York. "China has the ability to inflict significant economic harm on U.S. exporters of certain goods and can also use other overt as well as covert actions such as supply chain disruptions to hurt U.S. manufacturers."
What Our Economists Say…
"President Donald Trump's announcement of tariffs on $50 billion in Chinese goods markedly ratchets up the trade tensions," Bloomberg economist Tom Orlik wrote in a note. "Even so, it remains way short of his campaign pledges and — at a maximum — will shave a fraction of a percent off Chinese GDP over a number of years."
Policy makers across the world are warning of a brewing trade war that could undermine the broadest global recovery in years. Meanwhile, business groups representing companies ranging from Walmart (NYSE:) Inc. to Amazon.com Inc (NASDAQ:). are warning U.S. tariffs could raise prices for consumers and sideswipe stock prices.
Fed Warnings
Even central banks, which normally stay above the fray of trade spats, are weighing in. "A number of participants reported about their conversations with business leaders around the country and reported that trade policy has become a concern," Federal Reserve Chairman Jerome Powell said this week, while cautioning that trade issues haven't changed the Fed's outlook. The Bank of England warned Thursday that increased protectionism could have a "significant negative impact" on global growth.
Trump also directed Treasury Secretary Steven Mnuchin to propose new investment restrictions on Chinese companies within 60 days to safeguard technologies the U.S. views as strategic, said senior White House economic adviser Everett Eissenstat.
The Trump administration is framing the move as a major turning point in U.S.-China relations. It followed a seven-month investigation by USTR into allegations China violates U.S. intellectual property, under the seldom-used section 301 of the 1974 Trade Act. The U.S. concluded China engages in a range of violations, including policies that force American companies to transfer technology and the accessing of trade secrets through hacking, said Eissenstat.
The initial Chinese response may not be as severe as many fear but the conflict could easily escalate, said Robert Manning, an expert on U.S.-China relations at the Atlantic Council in Washington.
"What you're probably going to get from the Chinese is a low-key response to try to negotiate their way out of it," Manning said. "I just worry if it gets really ugly, they may go for the nuclear option."
He says nuclear option would be to sell a "couple hundred billion" in U.S. Treasuries, which would tank markets and raise U.S. interest rates.
Trump tried to make it clear he wasn't trying to provoke China or its leader, President Xi Jinping.
"I view them as a friend. I have tremendous respect for President Xi," Trump said. But, the U.S.'s trade deficit with China is "the largest deficit in the history of our world," he said.
For more on U.S.-China trade dispute
Read about China and I.P. theft allegations
See what economists say about trade-war impact
Watch Bloomberg's Enda Curran explain consequences
Click here for a breakdown of retaliation targets
Trump's actions represent a "seismic shift from an era dating back to Nixon and Kissinger, where we had as a government viewed China in terms of economic engagement," White House trade adviser Peter Navarro told reporters on Thursday. "That process has failed."
"The problem is that with the Chinese in this case, talk is not cheap. It has been very expensive for America," said Navarro. "Finally the president decided that we needed to move forward."
Commerce Secretary Wilbur Ross predicted a strong stand on trade would bring concessions without escalating into a broader conflict. 'We will end up negotiating these things rather than fighting over them, in my view," Ross said.
Before the tariffs become final, there will be a 30-day comment period, the White House said. Trump also directed his officials to pursue a World Trade Organization complaint against China for discriminatory licensing practices.
(Updates with metals tariffs exemptions in third paragraph.)
https://www.myfxe.com/wp-content/uploads/2018/03/2391/china-hits-back-at-trump-tariffs-as-trade-war-arrives.jpg
546
800
euitsols
https://www.myfxe.com/wp-content/uploads/2018/04/myfxe-300x140.png
euitsols
2018-03-23 08:58:03
2018-03-23 08:58:03
China Hits Back at Trump Tariffs as Trade War Arrives