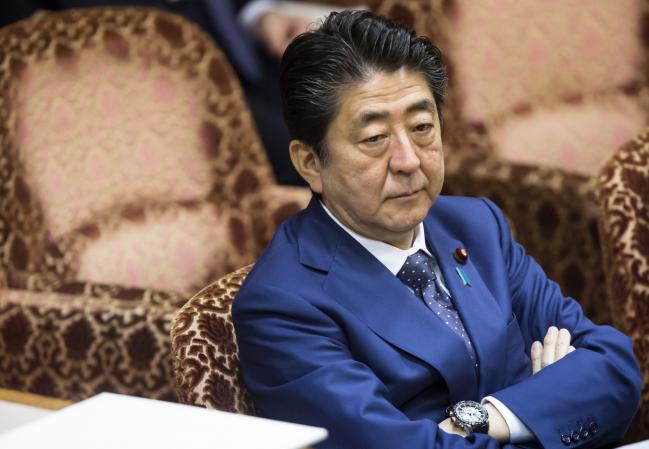 © Bloomberg. Shinzo Abe, Japan's prime minister, attends a budget committee session at the upper house of parliament in Tokyo, Japan, on Wednesday, March 14, 2018.
(Bloomberg) — The Bank of Japan will likely find it easier to make its inflation target less binding if recent scandals throw Prime Minister Shinzo Abe from power, according to Takahide Kiuchi, a former board member at the central bank.
"If the unusually strong administration changes, the Bank of Japan could get a little more freedom," Kiuchi said in an interview Tuesday. The BOJ has faced "considerable political pressure" these past five years, he said.
"If the Abe administration is replaced by another administration, it could become easier" to re-frame the inflation target as a medium- to longer-term goal, said Kiuchi, 54, who is now executive economist at Nomura Research Institute Ltd. in Tokyo. The BOJ, which is by law independent from the government, has said it wants to reach its price goal at the earliest possible time.
The BOJ's policy path could come under fresh scrutiny as speculation intensifies over Abe's future because of scandals that have prompted a series of public apologies and driven his poll numbers to near record lows. Kiuchi, who served on the BOJ's policy board from 2012 to 2017, was one of its perennial dissenters, saying that achieving 2 percent inflation isn't feasible and that trying to do so could have a negative impact.
In a Bloomberg survey of 49 economists before last month's BOJ policy meeting, 68 percent of those expecting the central bank's next move will be monetary tightening forecast such a move in January 2019 or later.
While BOJ Governor Haruhiko Kuroda has repeatedly said he is committed to easy policy to reach the price goal, Kiuchi suspects that the bank is moving toward normalization, citing its reduced purchases of government bonds. If Abe steps down, the price-target change could come around next year, Kiuchi said.
Abe must win a leadership vote scheduled for September by his political party to stay on as premier. While Abe has said he would stay in his job and work to restore public trust in the government, a poll published by the Asahi newspaper on April 16 showed respondents would prefer to see former Defense Minister and Abe critic Shigeru Ishiba as the next leader. Ishiba said in an interview in June last year that it wouldn't be good if the unprecedented easing policy continued indefinitely.
The BOJ could scrap its negative rate policy in late 2019, provided that the government delays a sales tax hike scheduled for October of that year, Kiuchi said. "What will likely come first is the termination of negative rates or a reduction in the purchases of exchange-traded funds," he said.
It may be in 2021 at the earliest when the BOJ begins to cut its corporate bond holdings accumulated as part of its stimulus, Kiuchi said.
Ahead of such changes, the BOJ may also redesign its long-term interest-rate target if there is little risk that that would cause the yen to rise, Kiuchi said.
One option would be for the bank to scrap its zero percent target for the 10-year government bond yield and make it a goal for the five-year yield instead, he said. The latter rate would be "far easier to control" partly because it's less sensitive to developments in overseas bond markets, he said.
"This will depend on market conditions so it's hard to tell when that could happen," he said of the possibility of a change to the 10-year yield target. "But it will probably come ahead of the termination of negative rates."
(Updates with chart containing tax-adjusted figures.)
https://www.myfxe.com/wp-content/uploads/2018/04/7699/boj-may-get-more-policy-freedom-if-abe-quits-ex-boj-kiuchi.jpg
449
649
euitsols
https://www.myfxe.com/wp-content/uploads/2018/04/myfxe-300x140.png
euitsols
2018-04-18 19:01:12
2018-04-18 19:01:12
BOJ May Get More Policy Freedom If Abe Quits: Ex-BOJ Kiuchi