If you are watching EUR/USD waiting for it to make its move, you may want to use the restroom before you settle in for a long stalking. This benchmark pair offers the two most liquid pairs, key technical levels and plenty of fundamental themes and event risk to work with. However, it is all of that staging that makes it uniquely difficult to movitate forward. Is monetary policy prioritizing shifting? How will trade wars favor one currency over the other? Has there been an upheaval in safe haven standards? These are big picture questions that carry serious legitimacy. And, they will not be readily answered to give way to traders' advantage.
Looking for something that is tradeable rather than mired in fundamental conflict, I come to AUD/NZD. This is not your typical pair, but that is an advantage. The Australian and New Zealand Dollars are very similar for their standing in the market. Both are considered carry currencies, both RBA and RBNZ are stubbornly dovish, they are heavily dependent on trade, their connection to China is approximately even. With this, we remove many of the crucial areas of speculation for the global markets. What we are left with is nuance.
See how retail traders are positioned in AUD/USD and NZD/USD individually via the DailyFX Sentiment Page.
The particulars for AUD/NZD market development are subtle between growth and relative monetary policy standing. While they would register clearly versus a Dollar for example, against each other it is more subtle. On this front, we have a few indicators on deck this week that are worthy of note: most prominently the 1Q New Zealand CPI reading and Australian employment for March. These are good for short-term volatility with an option for trend development if the update is extreme. In more measured circumstances, any activity will be controlled and short-lived.
If these two currencies are broadly similar, it will be in their nature to revert to a broad range when paired. We are currently at the extreme lower end of the range after a six-month bear trend brings us to a trendline support that is years in the making. A turn from 1.0500 looks probable, but I will look for a technical confirmation with a trendline loosely near 1.0600 as my guideline should it host a bullish break. I will set a stop below the low of a recent daily candle with a first target equivalent to the risk taken and a second objective set either to 250 pips or momentum extrapolated over two weeks.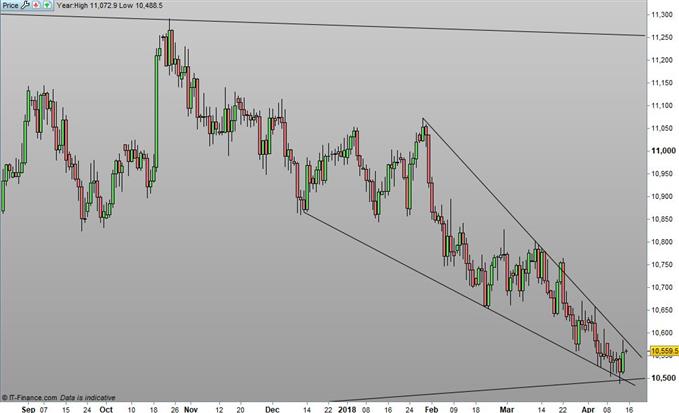 https://www.myfxe.com/wp-content/uploads/2018/04/7248/aud-nzd-an-atypical-pairs-whose-value-is-in-its-obscurity.jpg
413
679
euitsols
https://www.myfxe.com/wp-content/uploads/2018/04/myfxe-300x140.png
euitsols
2018-04-16 19:59:24
2018-04-16 19:59:24
AUD/NZD: An Atypical Pairs Whose Value is in its Obscurity