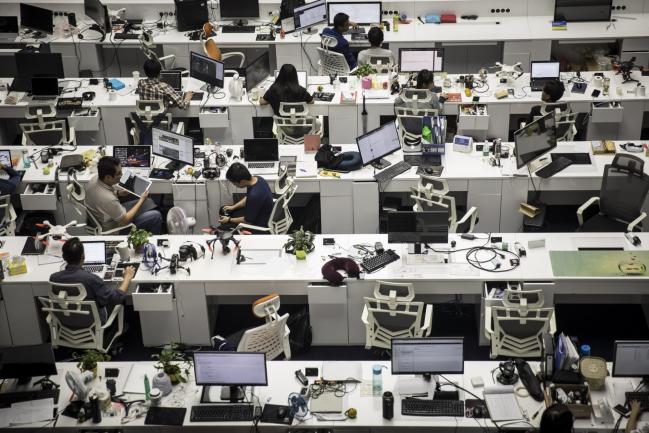 © Bloomberg. Drones sit on desks as employees work in front of computers in a testing facility at the EHang Inc. headquarters in Guangzhou, China, on Thursday, Nov. 2, 2017. The Chinese startup has developed a flying car that it plans to roll out as soon as next year. The E-184 drone can carry one passenger in its small cockpit, but the firm says it's working on a model that can carry two.
(Bloomberg) — China's rampant economic growth has been a boon for exporters in Japan, South Korea and Taiwan, who've supplied high-end components and machines for its factories. The risk for them now is that China changes from customer to competitor as it ascends the value chain.
Japanese shipments to China reached a record $130 billion in 2017, leading an export-driven economic recovery that's run for eight-straight quarters. Korean sales to its neighbor have jumped 70 percent in a decade, while shipments from Taiwan climbed to an all-time high.
Yet a deeper dive into the data highlights the threat. Take the trade in semiconductors — and the machines to make these microchips. Sales of the components from firms like South Korean tech giant SK Hynix Inc. have helped drive export growth into China from the rest of North Asia.
But at the same time, there's been a spike in sales to China of precision metal working machines and equipment for making chips from firms like Japan's Yaskawa Electric Corp. With a Chinese state-backed fund gearing up to pour as much as $31.5 billion into homegrown semiconductor manufacturing, there's potential for trade flows to start to shift.
China's ambitions, set out in its sweeping Made in China 2025 plan, go much further than semiconductors and would see its technical prowess advance in a host of areas, ranging from bio-medicine and artificial intelligence to new-energy vehicles and aircraft. The challenge to Japan, Korea and Taiwan also applies to European exporters like Germany, and comes on top of the risks to global trade from the Trump administration's embrace of tariffs.
"The bits of the global supply chain that are currently the preserve of Korea, Japan, Taiwan, the U.S., and Germany, are the bits of the supply chain that China has a decade-long industrial strategy to move into," said Tom Orlik, Bloomberg's chief Asia economist. He said it's only a matter of time before many components for electronic products are made domestically and the country is on track to become a car exporter. Eventually, it will be selling airplanes, said Orlik.
Industries to Watch
Bloomberg Economics and analysts from Bloomberg Intelligence identified these industries as areas where China will make inroads:
Electric vehicles
Autonomous driving systems
Solar cells
Robotics
Machine tools
Medical devices
Electronic sensors
"Sensors are dominated by the Japanese, and it might take a while until the Chinese catch up," said Bloomberg Intelligence analyst Nikkie Lu. "Maybe in the next five years. But it is slowly emerging."
To be sure, climbing up the value chain will pose challenges for Chinese companies. For one, they still have a ways to go in building trust with consumers and developing "softer skills" in customer service, which Japan excels at, according to Deborah Elms, executive director of the Asia Trade Centre in Singapore. They also need to demonstrate similar standards for protecting consumer privacy and intellectual property to displace companies from Japan, Korea and Taiwan, she said.
Wealth Effect
In addition, a more successful and richer China will also offer opportunities for its neighbors. Already its growing wealth has unleashed a tidal wave of outbound tourists. Their purchasing power in Japan is so renowned that a new word has been coined for it: "bakugai," or "explosive buying." More than 14 million mainland Chinese visited neighboring economies in North Asia in 2017, even after a security dispute saw a sharp drop-off in tourists to Korea.
Airlines, hotels, tour operators and retailers in Japan, Korea and Taiwan have all benefited from the influx of travelers. Japanese hotels in tourist hot-spot Kyoto, Korean tour operator Hana Tour Service Inc. and Taiwan's China Airlines Ltd. have all profited from mainland customers. Despite the drop-off in Korea, the growth in numbers of mainland tourists is expected to continue across the region over the longer term.
Of course, foreign firms have also benefited by setting up their own manufacturing operations in China to lower costs and tap its huge consumer market. Japanese textiles manufacturer Toray Industries Inc. is a recent example, announcing in November that it would invest about 7 billion yen for a new plant in Guangdong province.
Yet the direction is clear: Beijing is aiming higher and it has the resources to reach its destination. And that will mean difficulties for many companies around the region.
"China, in a very short period of time, is rapidly going up the value chain," said Gary Hufbauer, senior fellow and trade specialist at the Peterson Institute for International Economics in Washington, speaking from Taos, New Mexico. "They will produce the things that Korea and Japan are now producing, and Korean and Japanese firms have a big challenge to try to keep ahead on the technology."
https://www.myfxe.com/wp-content/uploads/2018/03/3058/as-trump-takes-on-china-another-trade-challenge-looms-in-asia.jpg
433
649
euitsols
https://www.myfxe.com/wp-content/uploads/2018/04/myfxe-300x140.png
euitsols
2018-03-26 05:59:52
2018-03-26 05:59:52
As Trump Takes On China, Another Trade Challenge Looms in Asia